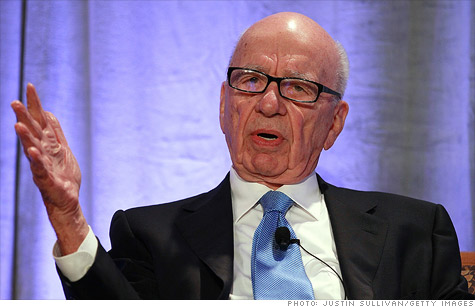 Rupert Murdoch is not a fan of carried interest.
NEW YORK (CNNMoney) -- News Corp. chairman Rupert Murdoch would like private equity fund managers to pay higher taxes.
And he wants President Obama to do something about it.
Murdoch used his Twitter account this week to comment on carried interest, the percentage of profits that a private equity fund manager takes home.
Fund managers currently pay the capital gains rate of 15%, but some would like to see that increased to an ordinary income rate that, for most fund managers, would be around 35%.
"Romney tax uses long-term legal loophole. 'carried interest' makes all fund managers rich. Time both parties stopped selling out to Wall S," Murdoch wrote Wednesday on his official Twitter account.
The low 15% rate has drawn attention as Republican presidential candidate Mitt Romney, a former Bain Capital executive, creeps closer to securing his party's nomination.
On Thursday, the News Corp. (NWSA, Fortune 500) executive opined on Twitter for a second time.
"Carried interest tax racket. Billions over many years. Why and where has Obama been?" he wrote.
Murdoch appears to be suggesting that Obama should take a more proactive approach to hiking taxes on carried interest, something that would require congressional approval.
In fact, Obama has advocated taxing carried interest at a much higher rate since his very first days in office.
For example, the president's 2009 budget proposed taxing carried interest as ordinary income, and estimated such a change would reduce the deficit by $24 billion over a 10-year period.
More recently, the White House advocated changing the tax treatment of carried interest as a way to help pay for the $447 billion job-creation package Obama proposed in September.
A representative from News Corp. did not immediately respond to a request for comment.