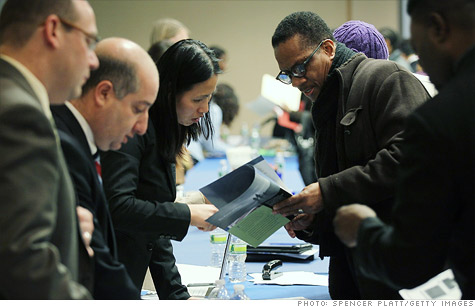 Job seekers speak with perspective employers at the New York Career Fair.
NEW YORK (CNNMoney) -- Companies slowed their hiring in January, according to a report by payroll processor ADP.
The private sector added 170,000 jobs in the month, ADP said Wednesday, missing forecasts of 200,000 jobs that economists polled by Briefing.com had predicted.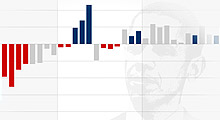 The U.S. lost 4.3 million jobs in President Obama's first 13 months in office. Track his progress since then.
The previous month was also weaker than originally reported. December's strong number -- first reported as 325,000 jobs -- was revised down to 292,000.
In January, small businesses -- those with fewer than 50 employees -- made up more than half of the job gains, hiring 95,000 people.
"Those jobs were mostly in the services sector and match some optimism we have seen in small business lending," Diane Swonk, chief economist for Mesirow Financial, said in a note.
A Federal Reserve survey released earlier this week showed demand for small business loans picked up in the fourth quarter -- a trend that could reflect growing optimism about the economy.
Meanwhile, the report showed large companies with 500 or more employees hired only 3,000 new workers, and medium-sized businesses added 72,000 to their payrolls.
ADP typically sets the tone for the government's highly anticipated monthly jobs report, due Friday, but its figures aren't always a good predictor of the government's numbers.
Economists surveyed by CNNMoney expect the Labor Department's data to show 130,000 jobs were added last month, including 150,000 from the private sector and a loss of government jobs.
That would mark a steep slowdown in hiring from December, when 200,000 jobs were created.
The unemployment rate is expected to rise to 8.6%.