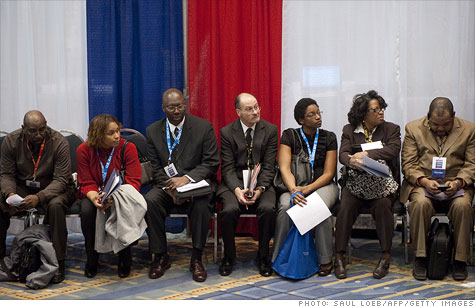 Job seekers like these in Washington D.C. may be looking for a while longer. Planned job cuts for the month of January totaled 53,486, according to Challenger report.
NEW YORK (CNNMoney) -- The U.S. job market stumbled out of the gates in 2012 -- at least according to one report.
Planned job cuts for the month of January totaled 53,486, according to a report from outplacement consulting firm Challenger, Gray & Christmas. That's a 28% increase from December and the highest total since the 116,000 cuts announced in September.
Leading the way were financial firms and retailers, which announced lay-offs totaling 7,611 and 12,426, respectively. Cuts of seasonal retail workers typically don't show up in the report, Challenger said.
The Challenger report follows data Wednesday from payroll processor ADP saying that the private sector added 170,000 jobs in January, down sharply from 292,000 in December.
The reports from Challenger and ADP come ahead of the government's highly anticipated monthly jobs report, due Friday, though their figures aren't always reliable predictors of the government's numbers.
Economists surveyed by CNNMoney expect the Labor Department's data to show that 130,000 jobs were added last month, with 150,000 from the private sector and a loss of government jobs. That would mark a sharp slowdown in hiring versus December, when 200,000 jobs were created.

The unemployment rate is expected to rise to 8.6%.