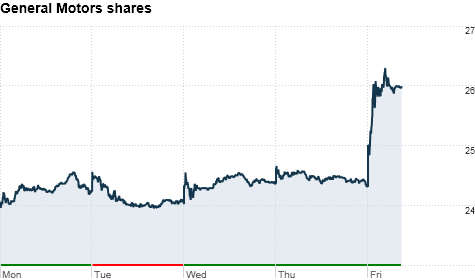 Click the chart for more info.
NEW YORK (CNNMoney) -- Shares of General Motors and Ford surged on Friday following strong data on the U.S. job market.
On Friday morning, the U.S. government announced that the economy added 243,000 jobs in January, far outpacing analyst estimates. The news sparked a broad rally in U.S. stocks, with the Dow closing at its highest level in nearly four years.

U.S. automakers were big beneficiaries: GM (GM, Fortune 500) shares closed up 7.7% and Ford (F, Fortune 500) ended up 4.3%.
Alex Potter, a senior research analyst at Piper Jaffray, called the unemployment data a "huge" indicator for domestic car consumption.

"There's been a lot of optimism permeating the entire industry and just looking for an opportunity to break out," he said.

Ford, GM and Chrysler all gained market share last year for the first time since 1988, according to estimates from sales tracker Autodata.