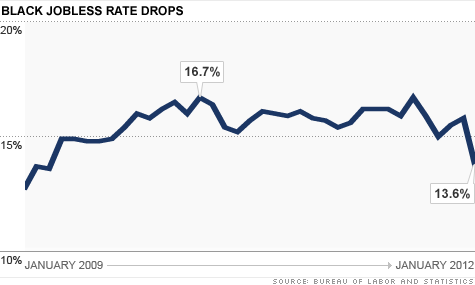 NEW YORK (CNNMoney) -- The unemployment rate for blacks fell more than 2 percentage points last month to its lowest level since March 2009.
The drop puzzled economists, who cautioned that it's too early to say that a job market recovery for blacks is underway. The rate for African-Americans didn't budge at all in 2011, ending the year at 15.8%. The overall unemployment rate fell nearly a percentage point last year.
But even at 13.6% for January, the unemployment rate for blacks is still far higher than the rate for other racial and ethnic groups, as well as the nation as a whole.
The white unemployment rate came in at 7.4%, inching down a tenth of a percentage point. Latinos had a 10.5% unemployment rate, down five-tenths of a point. The rate for Asians, which is not seasonally adjusted, came in at 6.7%. The national unemployment rate dropped to 8.3%, from 8.5%.
The rate for black men, women and teens all fell last month.
The improvement may be due to warmer-than-usual weather, which allowed construction projects to proceed in January, said Dean Baker, co-director of the Center for Economic and Policy Research, a liberal think tank. Also, the revival of the manufacturing sector, which employs many African-Americans, likely helped lower the rate.
Monthly jobless numbers, however, can jump around a lot, cautioned Heidi Shierholz, an economist with the Economic Policy Institute, a left-leaning research group. Therefore, it's not indicative of a trend yet.
"Let's wait and see because it's such an anomalous drop," she said.
Shierholz also noted that despite the plunge, blacks still have a much tougher time finding work.
"The larger story doesn't change," she said. "Blacks have been hit harder by the downturn and its aftermath."
Bad news for college graduates? Another data point that left experts scratching their heads was the loss of employment among the college-educated, who have weathered the Great Recession better than other groups. The unemployment rate of those with bachelor's degrees stood at only 4.2% in January. But that was up a tenth of a point.
Friday's jobs report also showed that the share of employed college grads dropped half a percentage point, when taking their population into account, Baker said.
"It does seem strange to have all these people with college degrees not working," he said.