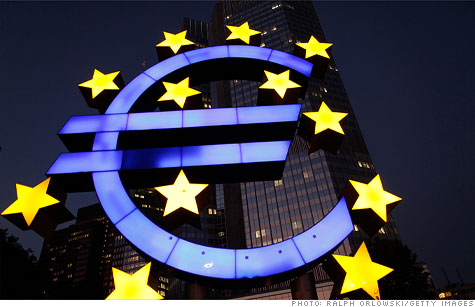 U.S. money market funds have cut their holdings of eurozone bank debt by one-third since May 2011.
NEW YORK (CNNMoney) -- After three years of rapidly unwinding holdings in banks that share the euro currency, U.S. money market funds have dipped back in.
These funds increased their holdings by 15% since the end of December, according to a Fitch report released Thursday.
Most of that increase stems from money markets adding to their positions in French banks, according to Fitch, which looked at roughly 45% of the $1.4 trillion managed by U.S. money market funds.
Even with the 15% increase, U.S. money market funds are still holding 65% less eurozone bank debt than they did nine months ago.
The funds now hold roughly 11% of their assets in eurozone banks, compared with 31% at the end of May 2011. That's about one-third of the historical average.
"Fund managers are putting their toes back in the water, but very conservatively," said Alex Roever, managing director and senior credit strategist at JPMorgan Chase.
In its report, Fitch warns that this modest turnaround might actually represent a new equilibrium in which U.S. money market funds remain more cautious than optimistic.
Additionally, the drop in U.S. money market funding has forced many banks in eurozone countries to scramble for alternative sources of financing and also cut back on businesses dependent on U.S. dollars.
And that's a trend that may continue, said Fitch. So, even if money market funds regain a hearty appetitive for eurozone debt, the banks may not be willing participants.
JPMorgan's Roever said that he expects that U.S. money market funds will likely wait to see if ratings firm Moody's downgrades any of the eurozone banks it placed on review before investing more significantly in the eurozone.
Moody's placed BNP Paribas, Deutsche Bank (DB), Societe Generale and 14 other banks on review last week.
The report notes that 27% of money market funds' exposure to European banks is in the form of so-called repurchase agreements or "repos". With repos, the banks selling them have agreed to buy back their own securities at a later date.
Money market funds are continuing to flee for the safety of U.S. Treasuries with about 19% of their cash in low-yielding, government-backed bonds. That's above historical averages.