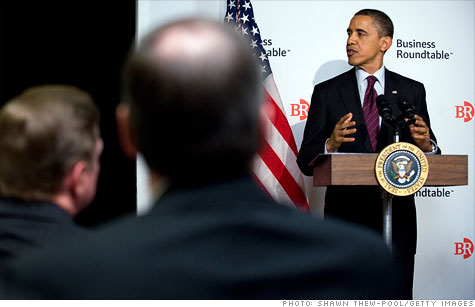 President Obama met with the Business Roundtable for an hour Tuesday night to talk about ways to create jobs.
 WASHINGTON (CNNMoney) -- A group of CEOs wants the corporate income tax rate lowered to 25% and several new health care taxes and Wall Street regulations axed, as part of their new plan released Wednesday to create jobs.
About 100 members of the Business Roundtable, comprised of the nation's top CEOs -- like JP Morgan Chase (JPM, Fortune 500)'s Jamie Dimon and Honeywell International (HON, Fortune 500)'s David M. Cote -- spent an hour talking with President Obama Tuesday night in a closed-door meeting at the Newseum about the CEOs' ideas to create jobs.
Executives were closed-mouthed about the details discussed, but the group's president, John Engler, called it a "very good dialogue."
Several of the main points in the Business Roundtable's plan include rolling back key environmental, health care and Wall Street reform policies of the Obama administration. By eliminating these rules, firms say they could allocate more resources toward growth and jobs as opposed to dealing with the regulations.
"America's CEOs believe deeply in the fundamental strength, resilience and potential of American business," said the group's chairman, W. James McNerney, Jr., of the Boeing Company (BA, Fortune 500). "However, we can not be successful if business and government remain divided and Washington itself remains divided."
The report calls for lowering the corporate income tax rate from 35% to 25% and moving to a tax system where overseas earnings wouldn't be taxed at all. (Right now, they're taxed only when brought to the United States.) The proposed 25% corporate tax rate is more aggressive than the Obama administration's goal of cutting the rate to 28% while also cutting tax breaks.
The report calls for getting rid of new taxes on medical devices, insurance plans and employer-sponsored health care plans that 2010 reforms created in order to provide broader health insurance for Americans. The business group also wants to eliminate rules promoting clean air and new rules governing hydraulic fracturing for oil and gas.
The Business Roundtable also wants to abolish new Wall Street reforms that regulate complex financial products called derivatives and a new rule that bans banks from so-called proprietary trading.
Executives who attended the meeting include Brian Moynihan of Bank of America (BAC, Fortune 500), Andrew N. Liveris of Dow Chemical Co (DOW, Fortune 500), Robert A. McDonald of Procter & Gamble (PG, Fortune 500), Douglas R. Oberhelman of Caterpillar (CAT, Fortune 500), Ajay Banga of Mastercard (MA, Fortune 500), David M. Cote of Honeywell International (HON, Fortune 500), Rex W. Tillerson of Exxon Mobil Corp. (XOM, Fortune 500), Alexander M. Cutler of Eaton Corp (ETN, Fortune 500). and Gary W. Loveman of Caesars Entertainment Corp (CZR).
After a rocky first couple of years with the business community, Obama has increasingly turned to Big Business to discuss jobs. He regularly meets with a jobs panel chaired by Jeffrey Immelt, CEO of General Electric Co (GE, Fortune 500)., which includes leaders from the manufacturing and tech industries. Tuesday's meeting was Obama's third with the Business Roundtable.
"The good news is, over the last two years, businesses like yours have created over 3.7 million new jobs," Obama said in remarks before the closed-door meeting began.
However, so far, Obama's meetings with business leaders have yet to yield any policy initiatives that seem likely to make it into law.