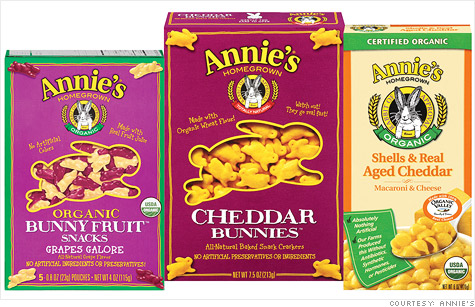 Organic macaroni & cheese maker Annie's is said to be the hottest IPO in a busy week with 10 companies expected to go public.
NEW YORK (CNNMoney) -- Who said the initial public offering market is broken?
The organic food company Annie's is one of 10 companies expected to go public this week, and the macaroni and cheese maker made quite the debut. Shares of Annie's closed up 89% Wednesday, after pricing above its expected range.
Two other companies that went public Wednesday also surged. Vocera Communications (VCRA), a maker of health care technology, closed 32% higher, and consumer finance company Regional Management (RM) finished the day up nearly 10%.
Investors appear to have an insatiable appetite for IPOs this year. According to the New York Stock Exchange, the average return for IPOs on their first day of trading this year is 15%.
And as of Tuesday, newly public companies are up nearly 32% from their offering price, according to the research firm IPO Boutique. Even with a sharp stock market rally, that's significantly higher than the 19% year-to-date return for the Nasdaq (COMP), the best performing stock index.
If all 10 IPOs actually get to market this week, it would be the busiest week for public offerings since March 2000, according to the research firm IPO Boutique.
"Normally underwriters try to not to jam a lot in during one week because it makes it difficult for an individual IPO to stand out," said Scott Sweet, senior managing partner at IPO Boutique. "Right now the underwriters feel confident that they not only get the deal out but have it go at a premium."
Annie's was expected to be the hottest deal of the week, but investors are also anxiously awaiting two other offerings: mobile advertising firm Millennial Media and online T-shirt seller CafePress.
Investors see this week as a sign of a hot IPO market not only in the sheer number of deals, but because small companies from a wide range of sectors are tapping the public markets. The median IPO raised $75 million in proceeds, according to the New York Stock Exchange.
"The start of the year was very very tech oriented," said David Ethridge, head of capital markets at the New York Stock Exchange. "What we're seeing now is a broadening of the type of company going public."
Annie's is one such relatively small company with an enviable growth trajectory. In 2011, the company generated $20 million in profits on $117.6 million in sales, up from $96 million in revenue in 2010 sales and $6 million in profits.
Successful IPOs beget more IPOs. "A lot of companies are taking note of what's happening right note and are starting to begin the process to go public," said Lise Buyer, the founder of Class V Group, which helps companies prepare to go public.
Even though any comparison to the Nasdaq's peak in March 2000 should send shivers down the spine of any momentum investor, experts say that irrational exuberance has not taken over the IPO market so far.
"It still isn't a market where two dogs and a slide show can go public," said Buyer. "We may get there, but we're not there yet."
The companies debuting so far this week tell the story of a discriminating investor base.
Annie's IPO was said to be massively oversubscribed, meaning that many institutional and retail accounts looking to buy into the offering before it starts trading weren't able to buy shares. Annie's underwriters, Credit Suisse and JPMorgan Chase, pushed up the pricing of the public offering late Tuesday at $19 per share from what was already an upwardly revised target range of $16 to $18.
Investors said Annie's is enticing because it's profitable and has a dominant market share in the organic food space, a rapidly growing consumer products niche.
Still, the IPO market is fickle. It may only take a few deals where prices fall to scare off potential investors.
"The window can shut virtually overnight," said IPO Boutique's Sweet.