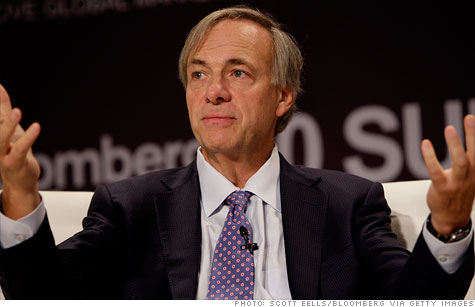 Bridgewater Associates' Ray Dalio was the top earning hedge fund manager in 2011 who received a $3.8 billion paycheck.
NEW YORK (CNNMoney) -- The highest earning hedge fund manager of 2011 essentially won the equivalent of seven of the current $540 million Mega Million jackpots last year.
Bridgewater Associates' Ray Dalio's reward for his bets on where the markets were heading: $3.9 billion, according to AR's list of the top-earning hedge fund managers.
The top 25 hedge fund managers took home an average of $576 million each.
And that was a down year.
Last year's total compensation for the top 25 hedge fund managers dropped 35% ... to $22 billion.
That drop in pay came in a year when hedge funds underperformed a lackluster stock market. The HedgeFund Intelligence Global Composite Index lost 2%, while the S&P 500 (SPX) ended the year flat.
"Hedge fund managers are paid high fees to deliver positive absolute returns, regardless of the direction of the markets," said AR editor Michael Peltz. "In 2011, the majority of managers failed to do that."
Dalio's hedge fund is also the largest in the world, with $120 billion in total assets under management.
Taking the second spot, corporate-raider-turned-activist-investor Carl Icahn earned $2.5 billion in 2011. Icahn returned 34.5% to investors before taking fees.
Still, 2012's payday may not be as robust.
Despite launching an activist campaign against Lions Gate Entertainment (LGF), Icahn sold shares of the company before its blockbuster movie Hunger Games caused the company's stock to surge.
Renaissance Technologies' founder James Simons took the third spot, with a $2.1 billion paycheck. While Simons is retired from active management, he still has personal capital invested in the fund, which produced big gains.
Citadel's Kenneth Griffin and SAC Capital's Steven Cohen took the fourth and fifth spots, earning $700 million and $585 million respectively.
Some of the top hedge fund managers of the last several years saw their Midas touch run out in 2011. Fifteen managers of the 25 top earners of 2010 didn't make the 2011 list.
Paulson & Co. founder John Paulson failed to make take a spot on AR's list for the first time since 2007, after his firm's hedge funds generated losses of between 30% and 50%. Last year Paulson was AR's top earning manager generating a $4.9 billion paycheck.
Eight hedge fund managers were new to the list in 2011. Among them: Bridgewater co-chief investment officers Greg Jensen and Robert Prince, and Paul Singer of Elliott Management Corp.