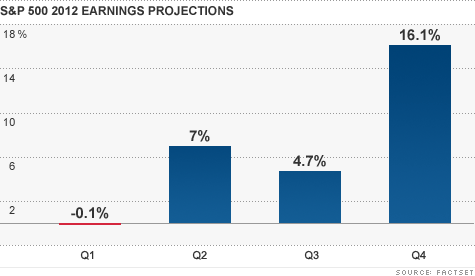 Analysts are forecasting a 0.1% drop in first-quarter earnings for companies in the S&P 500, according to FactSet, marking the end of a nine-quarter winning streak.
NEW YORK (CNNMoney) -- While the stock market put up its best first-quarter performance in over a decade, the first three months of 2012 weren't as hot for Corporate America.
Analysts are forecasting a 0.1% drop in first-quarter earnings for companies in the S&P 500 (SPX), compared with a year earlier, according to FactSet. While that's not exactly a major decline, it would mark the end of a nine-quarter winning streak.
And excluding Apple (AAPL, Fortune 500)'s always-impressive financial performance, the outlook is even more downbeat, with S&P 500 earnings on track for a 1.6% decline.
The materials sector is expected to post the worst performance, with earnings falling 14.5%. The sector will be in the spotlight Tuesday, when aluminum giant Alcoa (AA, Fortune 500) reports results, marking the unofficial start of the quarterly earnings season.
Google (GOOG, Fortune 500), JPMorgan Chase (JPM, Fortune 500) and Wells Fargo (WFC, Fortune 500) are also on tap to report this week.
One reason earnings growth is beginning to stagnate is sheer math.
When company balance sheets were recovering from the depths of the recession, earnings were growing by double-digits. But almost three years into the recovery, year-over-year improvements are more difficult to deliver.
On top of that, companies are facing some tough headwinds, too.
High energy costs are the biggest factor to blame for the earnings growth slowdown, according to analysts. Oil priced rose more than 4% during the quarter, sparking a 20% spike in gas prices.
While all 10 sectors of the S&P 500 are expected to post sales growth for the first quarter, there are at least seven that may have had trouble converting that to earnings growth, analysts said, reflecting the strain of higher input costs.
In fact, the number of companies projected to deliver higher sales but a decline in profit stands at 104, the highest since the third quarter of 2009, according to FactSet. Consumer discretionary and consumer staples make up a big bulk of those companies, since higher fuel costs typically weigh significantly on those companies.
For example, General Mills (GIS, Fortune 500), which reported earnings for the three-month period ended Feb. 26, said the uptick in input costs is pressuring its profit margins. Cruise line operator Carnival Corp. (CCL) has also been expressing concern about higher fuel costs.
Sluggish global economic growth is also expected to have impacted earnings. Europe's economies are struggling with massive debt and severe austerity measures, while growth out of emerging economies, particularly China, is also slowing.
For the three months ended Jan. 31, Hewlett-Packard (HPQ, Fortune 500) said sales out of Brazil, Russia, India and China dropped 13%, compared with a year earlier.
Though first-quarter earnings results are lining up to be unimpressive, investors won't put much stock into them. Rather, they'll be tuned more closely into what company executives have to say about future quarters.
"We want to know what executives are seeing from Europe and China, and what their expectations are going forward," said Rex Macey, chief investment officer of Wilmington Trust Investment Management.
In particular, Macey said he'll be looking at companies like construction equipment maker Caterpillar (CAT, Fortune 500), which has significant exposure to China, as well as multinational consumer giants like Coca-Cola (KO, Fortune 500).
Analysts are hopeful that earnings will improve over the course of the year, as Europe's economy stabilizes and China's easing efforts help spur growth.
Second-quarter earnings are expected to rise by 7%, according to FactSet, while third-quarter profits are expected to grow 4.7%. Double-digit growth is expected to return in the fourth quarter.