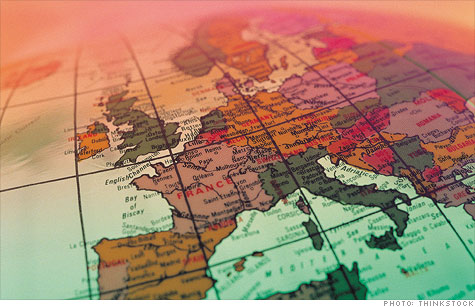 Europe's debt crisis may not be the biggest concern for stock market investors anymore, but it's certainly not gone forever.
NEW YORK (CNNMoney) -- Europe is still mired in a debt crisis, but Wall Street experts are largely hopeful that the worst is over.
Only five of the 33 market strategists surveyed by CNNMoney pointed to Europe's debt problems as the market's biggest headwind to stocks for the remainder of 2012 -- down from more than two-thirds of those surveyed at the start of the year.
"Portugal and Spain are problems, but the worry has shifted from crisis mode -- specifically the failure of major banks -- to concern about the length and depth of a European economic recession," said Rex Macey, chief investment officer of Wilmington Trust Investment Management.
"A recession is not good, but it's short of the 'crisis' that had the markets alarmed a few months ago," he added.
Similarly, a separate CNNMoney survey of top economists also found them less worried about the risks of a meltdown in Europe.
Fear of Europe's financial system collapsing have been taken off the table thanks to the European Central Bank's aggressive flood of cash into the region's banking system, Macey said.
The move has helped shares of European as well as U.S. banks recover this year. In fact, Paris-based BNP Paribas' stock tumbled more than 30% in 2011, but has already climbed 10% this year. And Bank of America (BAC, Fortune 500), which was the worst performer in the S&P 500 last year thanks to its 58% plunge, has rebounded more than 65% in 2012.
"It's like we went from having to deal with a heart attack, where we were worried about immediate survival, to cancer," said Macey. "Europe's debt problems are still very serious, as are the side effects of austerity and inflation, but now we have a bit of time to deal with them."
Experts most commonly cited "uncertainty in Washington" as a significant risk, especially with the election coming in November. The face-off for the presidential seat is especially unsettling this year, since lawmakers will likely take up comprehensive tax reform and the deficit during the next administration.
Those surveyed are also worried about slowing corporate profit growth, as well as a slowdown in China and other emerging markets.
"As developed economies stagnated in recession, emerging markets have become larger components of global growth," said Macey. "But now their rate of growth is in question."
Chinese Premier Wen Jiabao spooked markets last month by saying that China's new GDP growth forecast for 2012 is 7.5%, down from an earlier prediction of 8%.
But Adrian Day, president of Adrian Day Asset Management, says that's still robust growth, and a so-called 'hard landing' in China, or sudden economic collapse, is not a concern for now.
Day is among the minority of those surveyed that still consider Europe's problems as the market's biggest risk factor.
"The financial system may not be at risk, but there are still a lot of big unknowns in Europe," he said, including possible political changes with upcoming elections in France and Greece.
Day said investors will also have to keep a close eye on bond yields in Spain, Italy and Portugal as governments continue to auction off their debt. Earlier this week, a lackluster Spanish debt auction raised concerns about the country's ability to meet its 2012 budget deficit target, and the yield on 10-year Spanish bonds jumped to its highest level in more than three months.
While recent auctions have mostly been of short-term debt, Day said future sales will be more telling since they will include longer-term debt. "Bond buyers may be willing to lend money for a few yeas, but perhaps not for later down the line," he said.
Day also doubts that Greece's most recent bailout will keep the cash-strapped country funded through 2014 as it is intended to. In fact, he thinks Greece could be asking for more money before the end of the year.
"For a while, everyone thought they could push Europe aside since it's been out of the headlines for a while, but the situation clearly hasn't been completely dealt with," said Day.