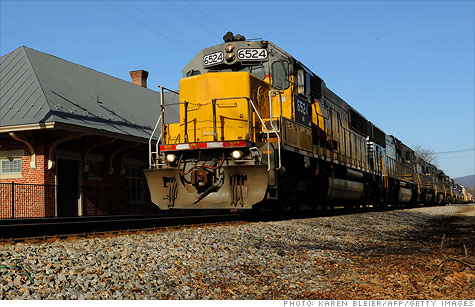 Choo-choo! Despite a slump in coal shipments, railroad owners are expected to post strong first-quarter results. That's good news for the health of the overall economy.
NEW YORK (CNNMoney) -- CSX investors might want to be singing along with The Yardbirds today. Train kept-a-rollin' all night long! The railroad owner reported first-quarter sales and earnings after the closing bell Tuesday that beat forecasts.
Shares of CSX (CSX, Fortune 500) still dipped Wednesday, in line with a broader market sell-off. But the strong numbers for CSX could bode well for fellow U.S. railroad operators Union Pacific (UNP, Fortune 500), Norfolk Southern (NSC, Fortune 500) and Kansas City Southern (KSU). It's probably a good sign for Canadian Pacific Railway (CP) and Canadian National Railway (CNI) too.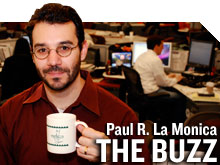 But guess what? Healthy earnings from CSX is not just encouraging news for railroads and other transportation stocks. It may also be an indication that the overall U.S. economy is still firmly on track (pun intended) for a recovery.
Do not underestimate the continued importance of 19th century technology in this social media world. Railroad companies are still extremely important macroeconomic barometers. When Warren Buffett's Berkshire Hathaway (BRKB) agreed to buy Burlington Northern Santa Fe in 2009, Buffett called the deal an "all-in wager on the economic future of the United States."
It makes sense. When CSX and its competitors are thriving, that's usually because they are shipping a larger amount of products to retailers and showrooms.
"The railroad industry has been through a renaissance over the past decade," said Eric Marshall, a fund manager with Hodges Capital Management in Dallas that owns positions in Union Pacific, Norfolk Southern and Kansas City Southern.
"The compelling thing here is that they are the low-cost provider for transporting goods. Higher fuel costs give them an advantage over trucks," Marshall added. "But railroads ultimately move with the economy."
And that's exactly why CSX did so well in the first quarter -- despite disappointing results from one key segment of its business..
CSX said one soft spot was a reduction in coal volume as more utilities shift to natural gas in order to take advantage of low prices. Shipping coal is a big generator of revenue for railroads. But CSX also said strong growth in the shipment of merchandise, particularly autos, helped offset weakness in coal.
Marshall said that if the rebound in auto sales continues, that could be "significant" for most of the railroad operators. Other railroad companies may report similar trends when they release their first quarter numbers in the coming weeks.
"We've been watching the rail stocks a lot lately because they are more cyclical. It's interesting because even though the rebound in economic growth is moderate at best, we have been surprised by the strength in consumer spending," said Dan Morris, manager of the Manor Fund (MNRMX) in Malvern, Pa. The fund owns a stake in Norfolk Southern.
There's another area that might help railroad owners too: food.
Jason Seidl, an analyst with Dahlman Rose, a boutique investment firm in New York focusing on companies with exposure to the natural resources business, said that the major railroad operators should benefit from increased shipments of agricultural goods. Many farmers have been enjoying boom times thanks to rising demand and higher commodity prices.
So if the worst you can say about the railroad companies right now is that coal shipments are down, that's encouraging. Stephen Dodson, manager of the Bretton Fund (BRTNX) in San Francisco, added that the railroad companies may be hinting at some signs of life for the beleaguered housing market as well.
Dodson, whose fund owns shares of CSX, Norfolk Southern and Union Pacific, said there have been some indications of a slight pickup in the shipment of construction materials this year. He said it's probably too soon to tell if that is just "noise" or evidence that housing is finally on the mend.
But with many investors wondering if the recent batch of bad data about the job market is a sign of another U.S. economic slowdown, the strength in the railroad business does seem to indicate that worst-case fears about the economy are overblown.
"When you look at rail volumes this year, the prospect of a recession in the next few months seems to be off the table," Dodson said.
Best of StockTwits: Robots rule. But old tech? Not so much.
redrover921: $ISRG developing next-gen daVinci system that cld be ready in 1-2 years, says analyst at Dougherty. should spur U.S. replacement sales
I did today's Buzz video on Intuitive Surgical (ISRG), maker of the da Vinci line of robots that assist doctors in minimally invasive procedures. Shares surged 8% Wednesday after the company reported results that were well ahead of analysts' forecasts.
Investors have to be a little careful with a stock as hot as this. Shares are up 27% this year and, like Apple (AAPL, Fortune 500) and Google (GOOG, Fortune 500), now trade near $600 But ISRG is an innovative leader in a dynamic field. And the company is in the S&P 500. So it's not some fly-by-night startup.
rayno: Both $IBM and $INTC trading down after "beating" earnings estimates. Remember it's the reaction not the news that matters.
ultimato: $INTC much downside potential imo. intc processors for mobile unproven in mkt. Win8 for ARM, and general tablet cannibalization of pcs
I think it's fair to be a little disappointed by the slight sales miss at IBM (IBM, Fortune 500). The stock is near an all-time high. So there was pressure to beat forecasts. And Intel (INTC, Fortune 500) has to be hoping that its new line of Ivy Bridge processors will lead the ultrabook revolution it desperately needs. Otherwise, we may soon be calling Intel the ARM (ARMH) of PCs. And that won't be a compliment.
But not everybody is souring on the "mature" tech companies.
RedDogT3Live: $INTC margins above 60 is still pretty damn impressive. That dip at some point should be bought.
Great point. Intel may face tough challenges ahead. But it has the luxury of still being the undisputed king in a business that, while slowing, will not evaporate overnight. And its robust profit margins are proof that, to quote Mel Brooks, it's good to be the king.
The opinions expressed in this commentary are solely those of Paul R. La Monica. Other than Time Warner, the parent of CNNMoney, and Abbott Laboratories, La Monica does not own positions in any individual stocks.