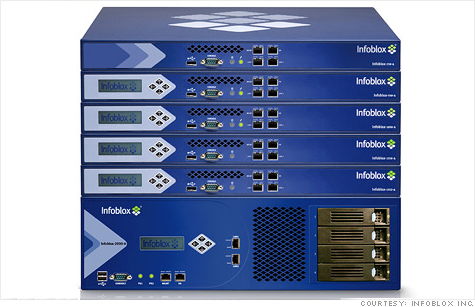 Infoblox joins fellow tech firms Proofpoint and Splunk in this week's debuts.
NEW YORK (CNNMoney) -- Shares of technology firm Infoblox soared in their debut on the New York Stock Exchange Friday, rising 35% versus their offering price.
The network infrastructure provider priced shares Thursday at $16; they opened at $22.50 on Friday and fell to around $21.50 in morning trading.
Infoblox (BLOX) joins fellow data-management companies Splunk (SPLK) and Proofpoint (PFPT) in debuting on public markets this week.
Proofpoint shares were up about 20% on Friday, trading at around $15.75 after being priced Thursday at $13. Splunk shares more than doubled versus their offering price in the first day of trading, closing at $35.48 Thursday after the company priced them at $17 a day prior.
The companies are the latest in a parade of strong IPOs to hit the market in recent months. Looming in the background is Facebook, which is expected to debut at some point in May.
Outside of the tech world, energy firm Midstates Petroleum Company (MPO) was trading around $14.10 on Friday morning, up about 8% versus the offering price of $13 announced Thursday.
So far this year, U.S. IPOs have popped by an average of 19% in their first day of trading, according to Dealogic.