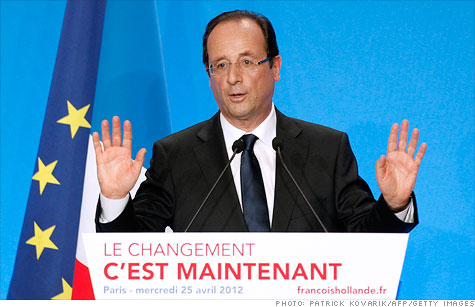 Francois Hollande is the Socialist Party candidate for the 2012 French presidential election.
NEW YORK (CNNMoney) -- Erik Nielsen, chief economist at UniCredit (UNCFF), defended France's honor in a note to clients, saying the financial press is being misleading about the nation's debts.
Nielsen, in a note sent Wednesday, rebuts claims that a victory by socialist candidate Francois Hollande, the front-runner in the race to the Elysee Palace, would lead to financial disaster.
The London-based economist, who works for the Italian bank, said the "Anglo-Saxon press" in particular is "having a field day" with this notion.
Nielsen takes issue with a column by Gideon Rachman of the Financial Times, in which the author suggests that regardless of who wins, the presidential election is setting the stage for a showdown in Europe over austerity.
On Monday, Rachman wrote that "the battle for France has a couple of weeks to run." After that, he added, "the battle for Europe will begin."
Rachman goes on to claim that the French have come to realize that "their cherished social model -- with excellent infrastructure, healthcare and pensions -- has been built upon an unsustainable mountain of debt."
Here is where Nielsen, a self-proclaimed optimist, comes in.
"Only problem with this statement: While it may fit Mr. Rachman's and casual readers' perception of France, it's not objectively true," he said.
In his cross-examination, Nielsen argues that France's debt load remains "perfectly sustainable."
Using data from the IMF, Nielsen compares France's general government debt, as well as its debts and contingent liabilities, to that of the United States and the United Kingdom.
Nielsen also points out that France's situation is far better than that of Italy and Spain, two countries that have been struggling to get their economies on track.
The French government's gross debt stands at 89% of gross domestic product, according to the IMF. That compares with 88% of GDP in the U.K. and 107% of GDP in the United States. It's far worse for Italy, with 123% of GDP, while Spain's is at 79%.
Including so-called contingent liabilities, such as pensions, French government obligations stand at 339% of GDP, although Nielsen acknowledges that the data should be taken "with a grain of salt."
In comparison, U.K. government obligations total 558% of GDP and 495% of GDP in the United States. In Italy, that figure stands at 129% and, for Spain, it's a whopping 986%.
Despite the cost of its "cherished social model," the data illustrate that France is in better fiscal shape than its peers, according to Nielsen's analysis.
What's more, France has actually made better progress in bringing down its deficits, he adds.
If that's not enough, Nielsen points out that debt is not necessarily a bad thing, as long as it's used to finance capital investment.
Nielsen says he can "sort of understand" why France and other euro nations are being punished by the bond markets. But he finds no explanation for the flogging these nations have received in the press.
"I fail to understand why so many commentators and generalists do not go through the concrete numbers and compare them in a proper and careful way before making bold and sweeping statements -- which, in turn, risk misleading the readers," he said.