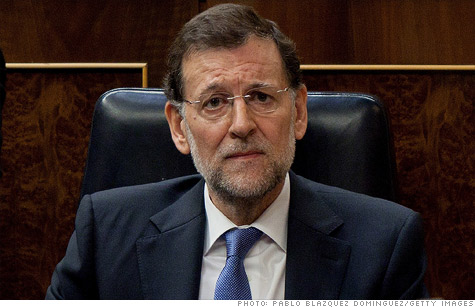 Spanish Prime Minister Mariano Rajoy is trying to push through budget reforms in the face of rising borrowing costs.
NEW YORK (CNNMoney) -- Smoldering worries about the debt crisis in Europe have flared up again in global financial markets with Spain and Italy feeling the heat.
The price Spain must pay to borrow money from investors for 10 years briefly rose above 6% this week, marking its highest point since late November.
Italy has also seen its borrowing costs increase, with yields on 10-year bonds holding near 5.5%, up from about 4.5% in early March.
"The periphery is coming under attack again," said Suki Mann, credit strategist at Societe Generale, in a note to clients. "But this time it is Spain, and Italy to a lesser extent, in the firing line with bond yields on the rise."
Yields eased Wednesday after a European Central Bank official suggested the bank could resume its bond market interventions. "We have an instrument, the securities markets program, which hasn't been used recently but it still exists," ECB executive board member Benoit Coeure reportedly told attendees at a conference in Paris.
The recent rise in Spanish and Italian rates follows a period of calm in eurozone sovereign debt markets, helped by the ECB's aggressive moves, which funneled some €1 trillion into the banking system since December.
But the lull appears to coming to an end as investors question whether eurozone governments will take advantage of improved market conditions to address deeper economic and fiscal problems, said Julian Jessop, an economist at Capital Economics.
"There are still huge uncertainties over whether politicians have the ability and inclination to do so" he said. "The markets are understandably reluctant to give them the benefit of the doubt."
However, some experts argue that European Union officials would likely take steps to restore confidence if the market spirals out of control.
"The last few months have shown that, if they want to, the ECB and Europe's institutions can get the crisis under control," economists at Berenberg Capital Markets wrote in a research report published Tuesday. Benoit's comments certainly seemed to back that up.
Spain rattled investors last month after the government reported a 2011 budget gap of 8.5%, compared with a planned 6% shortfall. The larger-than-expected deficit raised worries about Spain's ability to follow through on a €27 billion austerity package this year.
Last week, Spain was forced to pay higher yields to auction €2.6 billion worth of bonds.
Yields on Spanish debt continued to rise this week even after Prime Minister Mariano Rajoy announced health and education reforms aimed at saving €10 billion.
Investors have also been worried about Spain's troubled banking sector, which is still recovering from a major bust in the property market.
Bank of Spain governor Miguel Fernandez Ordonez said Tuesday that banks have made progress, but he suggested that more needs to be done to support economic growth.
"We are unlikely to see a prompt recovery in the Spanish economy," said Ordonez.
Meanwhile, Italy has been pressured by concerns that the European Union's financial firewall is still not large enough to rescue both Italy and Spain.
Eurozone finance ministers agreed late last month to boost their crisis resources to €700 billion from €500 billion by combining an existing bailout fund with one that comes into effect in July.
Despite the increase, analysts doubt that the funds will be sufficient if Italy, the eurozone's third-largest economy, needs to be rescued.
"The cupboard does look pretty bare if bailout packages end up being required for both Spain and Italy," said Grant Lewis, head of economic research at Daiwa Capital Markets.
Italian Prime Minister Mario Monti has taken steps to restore confidence in Italy's finances, including key labor market reforms. But analysts warn the recent uptick in yields could stoke fears about Italy's ability to refinance maturing debt and stifle its reform efforts.
"The longer this risk aversion persists, of course, the greater the risk that the trend becomes self-perpetuating, as it did at the end of last year, particularly in the absence of an effective policy response," Lewis wrote in a note to investors.