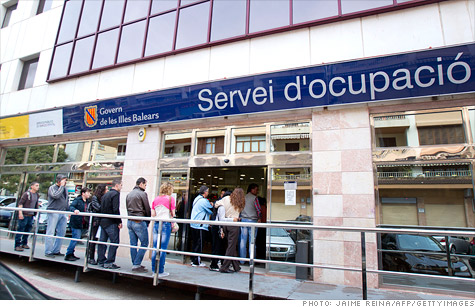 Spaniards line up outside a government job office. A myriad of problems have led to Spain's fiscal crisis and S&P downgrade, and its miserable job market is the top culprit.
NEW YORK (CNNMoney) -- Spain's notoriously stagnant job market is at the root of its economic crisis, which is a serious problem that is expected to get worse before it gets better ... if it gets better.
"The rate of job destruction proved to be very worrying," wrote Societe General analysts Michala Marcussen and Michel Martinez on Friday, after the Spanish government reported that its unemployment rate rocketed to a record high of 24.4% in the first quarter.
That was an increase from the already-astronomical rate of 22.9% in the fourth quarter of 2011. Spain has been haunted by high unemployment for many years, particularly with young people, but this is the worst it has ever been. The total number of jobless rose by 365,900 between January and March 2012 to hit 5,639,500.
The timing couldn't have been worse, as Standard & Poor's downgraded Spain on Thursday to BBB+ from A-2, slamming the government for its mounting debts and shrinking economy. The rating agency issued a forecast that Spain's gross domestic product would contract by 1.5% in 2012 and pull back by another 0.5% in 2013.
This does not bode well for the job market.
"With the deepening recession, this unfavorable trend on the job market is likely to continue over the coming quarters," wrote the London-based SocGen analysts, in a market report that blamed a potential "credit crunch" for the country's continuing malaise.
Spain faces a nasty catch-22. The country will probably have to bail out its battered banking industry, which it can't afford to do because the country is already drowning in debt.
This is at the crux of Standard & Poor's downgrade, which said the country's "budget trajectory will likely deteriorate against a backdrop of economic contraction." It also noted "an increasing likelihood that Spain's government will need to provide further fiscal support to the banking sector."
S&P's rating action, and its unfavorable view of Spanish debt, didn't help the Spanish bond market. The average yield of the 10-year bond rose to 5.9% on Friday, flirting once again with the troublesome 6% level that tends to scare away investors.
So what to do now?
John Edmunds, a business professor at Babson College in Wellesley, Mass., who has published several books about international finance, said that Spain needs to improve its tax base, and the best way to do that is to bolster its educated work force.
"They need more white-collar workers," said Edmunds, noting that Spain must "facilitate movement of skilled workers within the region and attract skilled workers from the outside of Spain. The challenge is to try and get more highly educated people to move there and live there."
Edmunds said white-collar workers tend to be a more reliable source of taxable income than small businesses. He said Spain, Greece and many other countries including the U.S. have a harder time getting tax revenues from small-business owners.
Tax evasion is one of the problems that led to the fiscal crisis in Greece, which is in even worse shape than Spain, with mountains of debt, strict austerity measures and a post-default bond yield that exceeds 20%.