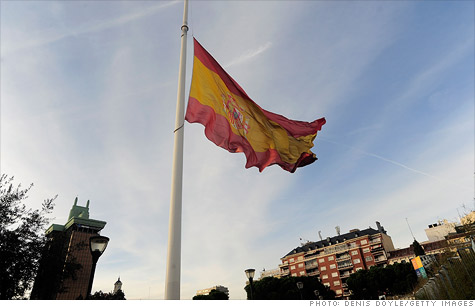 On Monday, Spanish 10-year bond yields jumped to their highest point this year.
NEW YORK (CNNMoney) -- Spanish bond yields soared on Monday to above 6%, their highest point since November, raising concerns that Europe's debt crisis may again be rearing its head after a period of relative calm.
"Spain has replaced Greece and Portugal as the chief source of market anxiety," wrote Brown Brother Harriman analyst Marc Chandler in a market report.
The yield for 10-year Spanish bonds hovered around 6.06% on Monday. Nick Stamenkovic, fixed income strategist at RIA Capital Markets in Edinburgh, Scotland, said that's the highest point since yields peaked at 6.7% in November.
"Investors are clearly questioning the sustainability of the fiscal situation in Spain for the near term," he said. "If yields continue to move higher, Spain might eventually get external help."
Stamenkovic said this reflects wider problems in the Spanish economy, such as the youth unemployment rate -- approaching 50% -- and could lead to political problems as the government plans to cut billions of euros in health and education funding.
Spain is unlikely to achieve its 2012 bond yield target of 5.3%, just as the country missed its target last year, he said. Investors will be keeping this in mind on Thursday, when Spain has scheduled an auction for 10-year bonds and two-year notes.
The rise in interest rates follows a period of calm in eurozone sovereign debt markets, helped by aggressive moves by the European Central Bank, which has funneled some €1 trillion into the banking system since December.
But the lull appears to be coming to an end as investors question whether eurozone governments will really address deeper economic and fiscal problems.
"There are a lot of policy options from the ECB and the [European Union], but at the moment there are no signs that they are intervening," Stamenkovic said.
European markets still managed to make mild gains during midday trading Monday. The FTSE 100 (UKX), DAX (DAX) and CAC40 (CAC40) all rose just less than 1% as investors turn their attention to Wall Street and retail data.
The U.S. Commerce Department reported Monday that retail sales rose 0.8% in March, ahead of analyst expectations of 0.3%, after climbing a revised 1% in February.
But Stamenkovic said the market gains are too mild to be cause for celebration.
"This is only a modicum of stability," he said, comparing the modest gains with last week's market declines.
Chandler of BBH outlined the challenges that Spain faces going forward.
"It is not clear what investors are more concerned about: That [Spain] reaches its deficit targets or that it doesn't," he wrote. "Perhaps the worst combination is that it tries and fails. Trying means more austerity despite the contracting economy, falling house prices and rising unemployment."
Meanwhile, German bonds, which are considered the gold standard of stability, headed in the opposite direction, fell Monday 1.71%.