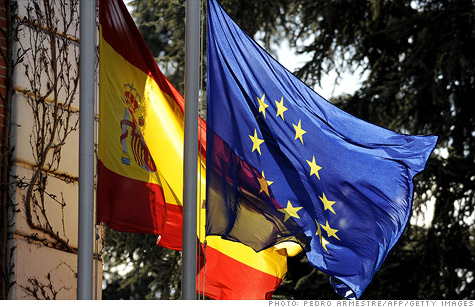 Spain's bond auction was well received, though the government low-balled its volume in order to keep demand brisk.
NEW YORK (CNNMoney) -- Spain's bond auction met with decent demand on Thursday, but failed to keep yields in check or to inspire the global financial markets.
The Spanish fixed income auction of about €2.5 billion - including €1.45 worth of 10-year bonds and €1.08 billion of 18-month "letras" - was well received. The Spanish government auctioned the 10-year bonds at a yield of 5.74%.
But that hasn't completely quelled the nervousness over Spanish debt. The average yield for the 10-year bond dipped in its initial reaction to the auction, but then reversed direction and rose to more than 5.9%.
Earlier this week, 10-year Spanish bond yields were trading above 6%, their highest point since November.
Spaniards want their yields to remain below 6%, because that demonstrates some measure of confidence on the part of international investors in the government's fiscal solvency. But if rising yields cross the 6% line again, that's not good for Spain.
For the sake of comparison, German bonds are considered the gold standard of stability, with their 10-year bonds yielding 1.7% on Thursday.
At the other end of the spectrum are bonds from Greece, a post-bail out nation at the nucleus of Europe's fiscal crisis. Greek 10-year bonds had a yield of 21% on Thursday.
But Brian Barry, fixed income strategist for Investec, said that the Spanish government had released a relatively low volume of bonds. He said the government was deliberately keeping the supply light to try and keep demand brisk.
"The amount they targeted to auction is quite low," he said. "They're trying to manage expectations, I guess. They're trying to under promise and under deliver, in a way. I've no doubt that they would have sold more than the €2.5 billion."
Barry added, "It's not necessarily a ringing endorsement of Spanish bonds."
Marc Chandler, market strategist for Brown Brothers Harriman, wrote in a research note that the Spanish auction "went without a hitch," but that doesn't change the widely held belief that "Spain will miss its deficit targets this year."
European reacted positively to the auction at first, but eventually lost steam. London's FTSE (UKX) was up slightly, but the CAC40 (CAC40) in Paris and Frankfurt's DAX (DAX) fell slightly.
Spain could use some good news, considering its stagnant economy and high unemployment. The unemployment rate among young Spaniards is approaching 50%.