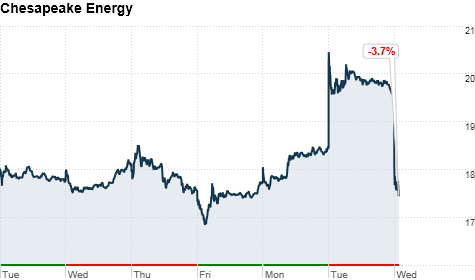 Click on chart for more data on the company
NEW YORK (CNNMoney) -- Chesapeake Energy's stock price plunged after the opening bell on Wednesday, as investors reacted to dissappointing earnings released Tuesday after the close.
Chesapeake's (CHK, Fortune 500) stock price fell 12% in the first hour of trading.
On Tuesday, the natural gas company said it lost $71 million, or 11 cents per share, in the first quarter. Excluding certain items, Chesapeake said it earned $94 million, or 18 cents per share, in the quarter. Analysts surveyed by Thomson Reuters were expecting the company to report a profit of 28 cents per share.
Chesapeake, based in Oklahoma City, is second only to Exxon Mobil (XOM, Fortune 500) for drilling natural gas in the U.S. The company has been hurt by rock bottom prices for the fuel, which have declined 53% over the last year. In a conference call with analysts on Wednesday, Chesapeake executives said they were transitioning from natural gas to oil.
The company has also been wracked by a controversy regarding its chief executive officer, Aubrey McClendon, because of an incentive program that allowed him to take personal stakes in wells drilled by the company. The program came under fire last month following news that McClendon took out loans worth more than $1 billion against his personal stake in the company's wells. This raised concerns about a conflict of interest.
McClendon has managed to hold on to his job, however tenuous his position may be. His unpopularity among investors became obvious on Tuesday, when the stock went up about 6% after the company said its chief executive officer would give up his title as chairman of the board.
This follows last week's announcement by the company that McClendon agreed to terminate the controversial Founder Well Participation Program ahead of schedule, in June 2014.
"We are eager to leave behind the controversy of the last few weeks," said McClendon, in the call with analysts Wednesday.
But it remains to be seen whether the company can truly get past McClendon's controversy with the embattled CEO still at the helm.