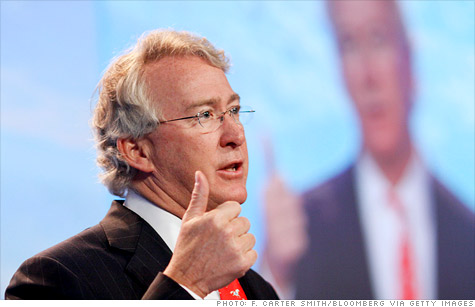 Chesapeake Energy and its embattled CEO Aubrey McClendon are facing an investigation by the Securities and Exchange Commission. Click the photo to check Chesapeak's stock.
NEW YORK (CNNMoney) -- Chesapeake Energy, which along with its embattled CEO Aubrey McClendon has been in the spotlight for a controversial compensation program, said Thursday that it was facing an investigation from the Securities and Exchange Commission.
The SEC's Fort Worth Regional Office notified Chesapeake Wednesday that it has launched an "informal inquiry" and requested that the company and McClendon "retain certain documents," Chesapeake said in a statement.
The company, a major natural gas producer based in Oklahoma City, said that it and its CEO plan to cooperate with the regulatory agency's requests, and highlighted that that the SEC said its inquiry "should not be construed as an indication that any violation of the of the federal securities laws has occurred."
The SEC's probe, which Reuters first reported last week citing a source familiar with the matter, comes just two days after Chesapeake announced that it stripped McClendon of his Chairman title and will end the questionable perk that allowed him to take personal stakes in wells drilled by the company.
Chesapeake and its incentive program, formally called Founder Well Participation Program (FWPP), came under fire last month following news that McClendon took out loans worth over $1 billion against his personal stake in the company's wells, potentially creating conflicts of interest for the CEO.
Chesapeake has also said it is conducting an internal review of the financial deals between McClendon and "any third party that has had or may have a relationship" with Chesapeake.
An SEC spokesperson would not comment for this story.
Shares of Chesapeake (CHK, Fortune 500) slipped 0.2% in after-hours trading Thursday.
Earlier this week, the the natural gas company's stock took a big plunge after Chesapeake posted a $71 million loss amid rock bottom natural gas prices, and widely missed analyst expectations.