NEW YORK (CNNMoney) -- Looks like Twitter isn't the only company with a fail whale.
JPMorgan Chase's (JPM, Fortune 500) stock plunged more than 9% Friday following the revelation of a surprise $2 billion loss tied in part to hedges by a British-based JPMorgan trader dubbed the London Whale.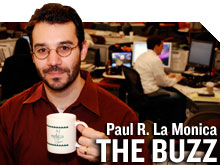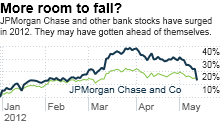 The news sent shares of most other big banks lower Friday as well. Goldman Sachs (GS, Fortune 500), Morgan Stanley (MS, Fortune 500) and Citigroup (C, Fortune 500) all fell, as did shares of big European banks with significant Wall Street exposure, such as Credit Suisse (CS), Barclays (BCS) and Deutsche Bank (DB).
But you know what the scariest thing about JPMorgan's trading mishap is? The bank is still probably the best of the major Wall Street institutions. That's exactly why investors would be wise to steer clear of the megabanks.
I'm not suggesting that other banks are going to report ginormous trading losses of their own in the coming days or weeks.
However, many investors thought that JPMorgan would be the least likely of the investment banks to do something this reckless or dumb.
JPMorgan Chase chief executive officer Jamie Dimon tried to reassure analysts that the bank's loss was not a sign that extreme risk taking on Wall Street was back. He said in a conference call Thursday that "just because we were stupid, doesn't mean anyone else was."
That's not exactly reassuring. Many investors have held the now apparently mistaken belief that JPMorgan Chase was smarter than your average bear (or bull) on Wall Street. So yes, it is reasonable to fear that if JPMorgan was this "stupid," then everyone else might be too.
Isn't the collapse of MF Global proof positive that there is indeed others out there that are doing even more idiotic things?
Mike Mayo, banking analyst at CLSA and author of the book "Exile on Wall Street" had a "sell" rating on JPMorgan Chase before the trading miscue. And he even conceded that Dimon and JPMorgan Chase are still probably the best on Wall Street.
Mayo is not recommending shares of any of the big banks, adding that all of them have balance sheets that look like "black boxes" right now.
I've written before about how the largest banks may still be considered too big to fail, but they are not too big to flail. This is further proof that Wall Street banks are just too risky to own. Even if you have more regulation, that won't eliminate the possibility of trades, or excuse me, hedges, gone awry.
"I don't care how studied the trading algorithms are. When you put money in the markets, you are going to win sometimes and you are going to lose sometimes. And sometimes you are going to lose big," said Steve Blitz, chief economist with ITG in New York.
One of the first rules of investing is to only buy stocks you can understand.
Why purchase a stock if you need to be an accounting savant or a master of the Dark Arts like Lord Voldemort -- to use the other nickname that traders have dubbed the London Whale -- to be able to comprehend the balance sheets and income statements. Some professional investors agree with me.
"I'm scared to death of the banks because you still don't truly know what they are doing," said David Armstrong, managing director with Monument Wealth Management in Alexandria, Va.
Bank stocks remain one of the market's best performing groups this year, even after factoring in Friday's drubbing. The Financial Select Sector SPDR (XLF) exchange traded fund is up almost 15%, outpacing the S&P 500's (SPX) gain of 8%.
Bank of America (BAC, Fortune 500) is up nearly 40%, making it the top stock in the Dow. And even JPMorgan Chase is still up nearly 13% year-to-date. But the beaching of the London Whale has to make you wonder if the big bank stocks have seen their best days for 2012.
Even if other large banks don't have similarly bad hedges in place, there are other reasons to be worried. The financial situation in Europe appears to be deteriorating and that could be bad news for Wall Street firms.
This latest black eye for Wall Street may also have regulators and politicians salivating. It's still not entirely clear how things like the Volcker Rule will pan out, but it seems safe to worry about the risk of even more regulation down the road.
While that may make banks "safer", limiting their ability to take big risks will make them less profitable ... and less attractive to the momentum investors that used to love the group.
JPMorgan Chase, Citi and Bank of America are also big consumer banks, so if the recent softness in the job market persists, that may lead to more problems with mortgages and credit card loan portfolios.
Are big banks still cheap? Yes. But so are many other troubled stocks. BlackBerry maker Research in Motion (RIMM) trades for 6 times this year's earnings estimates, for example. Sure, that may be an extreme example. But many big banks still look more like a classic value trap than a true bargain.
Armstrong argued that the huge rally in the first quarter for most banks wasn't due to real optimism about the health of the group. It was simply due to the fact that many big bank stocks plunged last year and expectations were extremely low coming into 2012.
"Banks have been a great sector this year. But when the bar is on the ground, it's easy to step over it," he said.
Blitz added that even though JPMorgan Chase didn't appear to do anything legally or even morally wrong with its hedges, investors have to realize that the big banks are increasingly investing in things that the Bailey Building and Loan from "It's a Wonderful Life" would never dream of doing.
Does this mean banks should be forbidden from trading? Of course not. But average investors don't have to take part in subsidizing those trades.
"A true bank takes deposits and lends money. But the big Wall Street firms are taking shareholder capital and putting it risk," Blitz said.
Best of StockTwits and reader comment of the week: Shine on you crazy Dimon! More on JPMorgan Chase.
hedgefundinvest: It will hurt all US banks, as risk of regulation adversely impacting profits has gone up. Ain't nuthin' isolated about$JPM.
If you've made it this far, you know I agree.
ritholtz: Hedge fund manager writes to me about $JPM risk loss: "if this were a hedge fund, you would see investors lining up to take money out"
With JPM down as much as it is today, some investors are taking money out. I wouldn't call it a run on the bank though. Maybe a trot?
tradefast: $JPM has a $15 bln share buyback authorization - amounts to about 11% of float at current prices.
Dimon may have to pull a Rupert Murdoch and increase that share repurchase program like News Corp. (NWSA, Fortune 500) just did.
MichaelComeau: Under Lenny Dykstra Accepted Accounting Principles, $JPM does not have a loss until it sells the positions.
Brilliant! I wonder if any of Bruno Iksil's friends call him "Nails."
And speaking of Iksil, this week's top reader comment goes to Alex Ferguson, for amusingly stating the obvious.
"I'll throw it out there that Bruno Iksil probably isn't on Jamie Dimon's Christmas Card list. $JPM," he tweeted.
Nope. Although Iksil might soon need to sing a line from the classic Kinks holiday tune. "Father Christmas, give us some money. Don't mess around with those silly toys!"
The opinions expressed in this commentary are solely those of Paul R. La Monica. Other than Time Warner, the parent of CNNMoney, and Abbott Laboratories, La Monica does not own positions in any individual stocks.