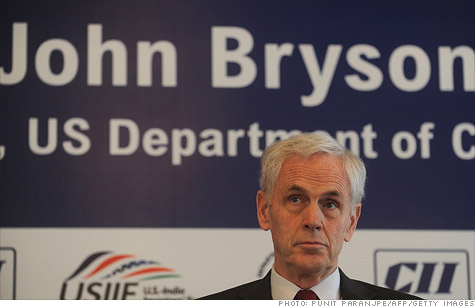 John Bryson has resigned from his Commerce post.
NEW YORK (CNNMoney) -- John Bryson resigned his post as Commerce Secretary on Thursday, less than two weeks after an episode involving a seizure and a series of traffic accidents.
Bryson, a former energy industry CEO, had served in the position since October, and his departure leaves the Obama administration with one fewer private-sector luminary.
Bryson brought significant business experience to the Commerce Department, having served as CEO and chairman of the parent company of Southern California Edison (EIX, Fortune 500) for almost 20 years.
Bryson retired from Edison in 2008, and was working as a senior adviser at private equity firm Kohlberg Kravis Roberts & Co (KKR) at the time of his nomination.
Bryson's selection was widely viewed as an example of the Obama administration's efforts to improve its occasionally rocky relationship with the business community.
But the former CEO's nomination was held up for months by Republican lawmakers who wanted to prioritize free trade agreements with Colombia, South Korea and Panama.
Bryson was eventually confirmed by the Senate in October.
It was not immediately clear who will succeed Bryson, but Obama voiced support in a written statement for acting director Rebecca Blank, an academic with ties to the Clinton administration.
With only a few months before Election Day, the Obama administration may not make any immediate moves to replace Bryson.
Shepherding a nominee through the confirmation process at this late date would almost certainly be turned into a political exercise -- a fact that makes the cabinet position much less attractive for potential nominees.
And top-shelf candidates may also be deterred by the position's potentially short shelf life. Should Mitt Romney defeat Obama in November, Bryson's replacement would almost certainly be out of a job.
Bryson's departure is just the latest example of upheaval at Commerce, which has endured much turnover in its top ranks.
Obama's first choice to lead the department, former New Mexico Gov. Bill Richardson, withdrew his nomination, citing a federal investigation into his ties to a company that had done business with his state.
Former Republican Sen. Judd Gregg, Obama's second choice, withdrew his nomination after clashing with the administration over its stimulus bill and the 2010 census.
Former Washington Gov. Gary Locke was finally confirmed to the position in March, 2009. Bryson succeeded the departing Locke, who left to become the American ambassador to China.
Bryson was part of a wave of business-oriented appointments made by the White House.
In January of 2011, Obama brought banker and lawyer William Daley on board as his chief of staff after suffering a self-described "shellacking" in the midterm elections.
And General Electric (GE, Fortune 500) boss Jeffrey Immelt signed on to lead the president's new Council on Jobs and Competitiveness.
The White House is once again a little thin at that position following the departures of Bryson and Daley, who announced in January he was leaving the administration.
Bryson, 68, had been on a medical leave of absence since his involvement in two auto accidents in California that his office indicated were linked to the seizure.
Police said Bryson was found unconscious at the wheel of his car after the accidents, and was issued a citation at an area hospital where he received treatment.
Authorities must still decide whether to formally file charges.