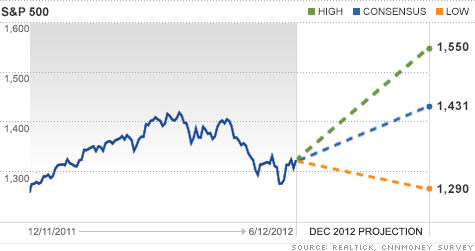 The S&P 500 will rise more than 8% from its current level to finish the year above 1,430, according to a CNNMoney survey. That would translate into a 14% gain for the year.
NEW YORK (CNNMoney) -- It's been a hot and cold year for stocks so far, but Wall Street experts are optimistic that the market will emerge from its recent funk to end the year with solid gains.
According to an exclusive CNNMoney survey of 20 investment strategists and money managers, the S&P 500 will rise more than 8% from its current level to finish the year above 1,430 -- the same level they had predicted at the end of March. That would translate into a 14% gain for the year, far better than 2011's flat finish.
"Nothing has been too surprising this year," said Bell Investment Advisors chief investment officer Matt King, who has held his year-end target for the S&P 500 steady at 1,500 since March. "Given that fast start to the first quarter, we expected stocks would cool off with a 5% to 10% pullback."
Earlier this month, the S&P 500 (SPX) and Nasdaq (COMP) had briefly crossed into official correction territory, after dropping more than 10% from their highest levels of the year, while the Dow (INDU) flirted with that threshold.
Experts say that the pullback was not only anticipated, but also healthy because it meant there was still plenty of money on the sideline to push the market higher in the coming months.
That's why many are forecasting a rally going into the second half of the year.
And Tom Schrader, managing director at Stifel Nicolaus, is expecting a big one. He is among a handful of experts who have raised their year-end target over the last few months.
"Stocks have gotten too beaten up," said Schrader, who is now expecting the S&P 500 to finish the year around 1,522, up from his March estimate of 1,500. "Markets are oversold, and pessimism abounds. But the sentiment will start to turn around, and by the fall, we'll see a rally that will be even bigger than we previously anticipated."
By then, Schrader expects that U.S. economic growth -- particularly in the job market -- will pick back up, Europe's future will be less murky, and investors will have a better sense of who will be living in the White House next year.
Similarly, Ryan Detrick, a senior technical strategist at Schaeffer's Investment research who has a year-end target of 1,525, says that since expectations are "so very low" and many of the looming concerns are already priced in, the odds of a big rally are strong.
Rob Lutts, chief investment officer at Cabot Money Management, is the most bullish of those surveyed, with a year-end target of 1,550 for the S&P 500.
"It seems impossible today, but we believe the bears will be disappointed," he said.
While most experts have maintained or upped their targets for stocks, they've been forced to revise their projections for Treasury yields after watching a fear-induced rush toward U.S. government debt that pushed the benchmark 10-year Treasury yield to a record low below 1.5% earlier this month.
"We've been a bit surprised to see how low Treasury rates have gone," said Bell Investment Advisors' King. "We expect to see some upward pressure on yields, but we also see the Federal Reserve to step in to keep a lid on rates."
In fact, King, who lowered his year-end target on the 10-year yield to 2% from 2.5% in March, say that the Fed will use whatever maneuvers it needs -- from an extension of its Operation Twist policy to a third round of bond buying -- to keep the 10-year rate steady around 2% until late 2014.
Those surveyed expect the 10-year yield will end around 2.2% on average, down from a 2.74% consensus in March.