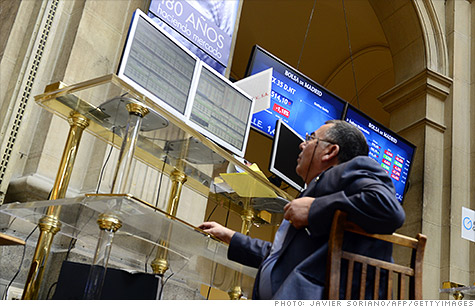 Spanish bond yields are still trading at anxiety-inducing heights, and investors can't stop thinking about the possiblity of a bailout.
NEW YORK (CNNMoney) -- Spain's borrowing costs continued to rise Tuesday, with the yield on the 10-year bond hitting another record high above 7%.
Worries that Spain may need a bailout of its own is fueling investor anxiety.
The yield on the 10-year bond spiked to 7.27% early Tuesday -- its highest level since the euro debuted in 1999 -- according to Tradeweb, before easing slightly to 7.11%.
The 7% mark is the first warning sign that a country may be headed toward needing financial rescue.
"It looks inevitable that Spain is going to mirror the experience of Italy, Portugal [and] Greece, and is going to need a bailout sooner than later," said Nick Stamenkovic, fixed income strategist at RIA Capital Markets in Edinburgh, Scotland.
The rising borrowing costs came as Spain sold €2.4 billion worth of one-year bills at 5.2% and €639 million of 18-month bills at 5.35%. While the demand was strong, the yields were nearly twice as high as last month's auction.
Spain cannot afford to borrow at 7% for long, and analysts say the nation is effectively shut out of the market at these levels.
The rising rates signal investors' "total lack of confidence" in Spain's sovereign debt, especially considering the relatively short maturities of the bills, said Stamenkovic. "Inevitably, that means [Spain] will probably need a full scale bailout, in addition to the banking bailout, by autumn, if not earlier."
On June 7, credit rating agency Fitch downgraded the country's sovereign debt to the lowest grade above junk status.
Two days later, the Spanish government requested up to €100 billion from the European Union to recapitalize insolvent banks. But the rescue plan failed to ease concerns about the sustainability of Spain's public debt.
An audit of Spanish banks is due to be released Thursday -- the same day Spain plans to auction off longer-term bonds. But a more in-depth audit that was due at the end of July has been pushed to September
"We believe sustained high yields will eventually force Spain into taking a full-fledged bailout," wrote Brown Brothers Harriman strategist Marc Chandler, in a client note. "The market simply does not have this kind of patience."
On Tuesday, banking stocks Banco Santander (SAN) and BBVA (BBVA) both closed higher by about 4%.
European stocks rallied. London's FTSE (UKX), the DAX (DAX) in Frankfurt and the CAC 40 (CAC40) all ended about 1.7% higher.