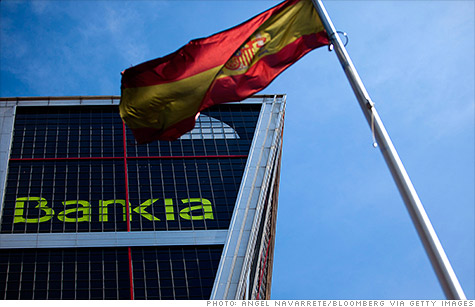 Yields on Spanish 10-year bonds jumped back above 7% on Friday, signaliing a lack of investor confidence.
NEW YORK (CNNMoney) -- As dust settles from last week's summit of European leaders, fear about Spain's credibility in the bond market has returned.
The yield on Spanish 10-year bonds briefly jumped back above 7% on Friday before edging back, a sign that investors aren't convinced the "breakthrough" agreement struck by EU leaders will stabilize the euro debt crisis.
The Spanish 10-year bond yield ended the day at 6.95%.
Analysts say that European Central Bank president Mario Draghi's sobering assessment of the eurozone's economic growth prospects on Thursday brought investors' fear to a boil.
"We see now weakening of growth in the whole of the euro area including countries that had not experienced that before," Draghi said.
The yield has been near 7% since last month, marking the highest level since the euro launched in 1999. The 7% level is psychologically significant since it typically signals that financial rescue is needed.
Greece, Ireland and Portugal moved much higher before they required a bailout, but the number still unnerves investors. Italy's 10-year yield, which was up above 6% on Friday, breached 7% back in January.
But Spain has stayed front and center in the eyes of investors, and analysts say that the nation can't afford to borrow at 7% for long.
The nation formally requested loans from eurozone leaders to bail out its banking sector last week. This elevated concerns about the credibility of the government's debt, which sends up bond yields.
The depth of the nation's crisis has raised doubts about whether the €100 billion offered by eurozone countries to help Spain will be enough to recapitalize the banks.
Both Moody's and Fitch downgraded Spain's credit rating following the request for aid, rating Spain's debt at the lowest level above junk bond status.

Last week, EU leaders tried to restore confidence in the bond market by agreeing to inject bailout funds directly into Spanish banks, rather than lending money to the Spanish government. But analysts worry that bailout funds may not have the resources necessary to fully stop the bleeding.
Analysts also say that rising rates signal that investors aren't confident in Spain's sovereign debt and in the growth outlook for the eurozone.
"The eurozone kicked the can down the road again and the real problems haven't been addressed, adding to markets' frustration." said Kim Rupert, fixed income analyst at Action Economics.
Shares of Spain's two largest banks, Banco Santander (SAN) and BBVA (BBVA), closed down 4.3% and 5.5% respectively. Spain's IBEX 35 was down 3% on at close Friday.
European were all closed lower in Friday. London's FTSE (UKX) lost about 0.5%, the DAX (DAX) in Frankfurt shed 2% and the CAC 40 (CAC40) slid 1.9%.