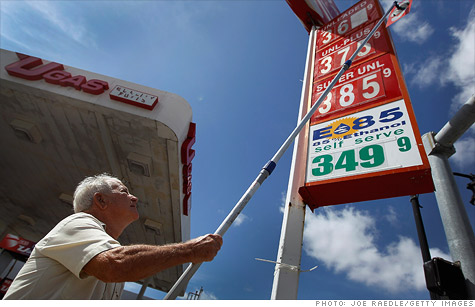 Gas prices continued to fall in June, giving consumers relief even as other prices rose.
NEW YORK (CNNMoney) -- Consumers continued to get a break at the pump, but other prices climbed in June, according to the government's latest inflation reading released Tuesday.
The Consumer Price Index, the key measure of retail prices, was up 1.7% compared to a year earlier, even though gasoline prices fell 4.3% over the same period.
Food prices were part of the problem, rising 2.7% over the course of the last 12 months, with a one-month jump of 0.2% in June alone. And the so-called core CPI, which strips out the volatile food and energy prices, was up 2.2% over the same period.
Gas prices have been falling steadily since early April, following oil prices sharply lower, as traders worried about a looming European recession and a slowdown of growth in China and other developing economies. Supplies of gasoline and prices were also helped by increased domestic production and a drop in gas consumption by U.S. drivers.
The average price of a gallon of regular gas was $3.337 at the end of June, according to AAA, down from $3.62 at the end of May. The CPI report showed a 2% drop in gas prices in June alone.
Gasoline prices weren't the only energy savings being enjoyed by consumers. Natural gas prices charged by utilities have tumbled 13.6% over the last year. Electric rates fell 0.5% in June, although they are 0.5% higher than a year earlier. And fuel oil is down 6.8% from a year earlier.
Overall consumers are paying 3.9% less for energy than they were in June of 2011.
"Reduced energy prices will help to provide some buffer to consumers," said a note from economists at Deutsche Bank. But the note added "there continues to be broad-based inflation pressures in the core CPI." It said core CPI could rise to a 2.6% annual increase by the end of the year.
But other prices continued to put a squeeze on consumers' wallets. Clothing prices are up 3.9% over the last year, while housing rents are up 2.7%. The cost of medical care is up 4.3%.
The continued weakness in the jobs market means that average weekly wages are up only 1.8% compared to a year ago, meaning that wages have only narrowly outpaced prices over the last year, even with the drop in gasoline prices.
The overall CPI was unchanged compared to May, when it posted a 0.3% decline due to the lower gas prices. And the core CPI posted a 0.2% increase in the month, the fourth straight increase at that pace. Economists surveyed by Briefing.com had forecast a 0.1% rise in monthly CPI, and a 0.2% in the core reading.