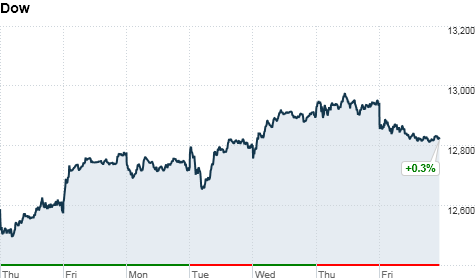 Click the chart for more stock markets data
NEW YORK (CNNMoney) -- Investors will have a lot to contend with this week: a deluge of earnings and economic reports are due out, including Facebook's (FB) first report as a public company and the first look at U.S. economic growth during the second quarter.
This week, 138 S&P 500 companies are on tap to report second-quarter earnings. Of the 119 S&P 500 companies that have reported so far, 69% have beat expectations, according to S&P Capital IQ. But the bar has been set pretty low.
And only 40% of companies reported sales above estimates. That's the lowest percentage since 2009, according to research firm FactSet.
At the same time, analysts say that companies have also been adjusting guidance for third-quarter earnings downward.
"The guidance has been down, but that's natural given the pessimism around the fiscal cliff in the U.S. and how what's going on in Europe is impacting U.S. companies," said Robert Baur, managing director and chief global economist for Principal Global Investors. "And it's always better for them to surprise on the upside."
Investors will be keen to see how Facebook does, when it reports its earnings after the closing bell Thursday.
Since Facebook went public in May, its stock has fallen 25%. Facebook is expected to report $1.15 billion in revenue during the quarter and a pro-forma profit (excluding some compensation expenses) of $300 million, or 12 cents a share.
Also out of the tech world, investors will hear from Apple (AAPL, Fortune 500), Amazon (AMZN, Fortune 500) and Zynga (ZNGA).
Aside from tech, the first of the major energy companies, Exxon Mobil (XOM, Fortune 500), will report earnings before the opening bell Thursday.
While earnings have been buoying sentiment, economic reports could keep a damper on the enthusiasm. Recent data have been mixed, raising worries that the U.S. economy will remain sluggish.
This week brings another batch of reports on housing, manufacturing and jobless claims. But the most important economic report comes Friday, when the U.S. government releases the first estimate of second-quarter GDP.
Analysts polled by Briefing.com, expect annualized growth of 1.2% for the quarter, down from 1.9% growth in the first quarter.
The release will also include revisions for the past few years, which could bring some "potentially big surprises," according to John Higgins, senior market economist at Capital Economics.
Of course, Europe will also remain in focus.. Eurozone finance ministers finalized the terms of €30 billion bailout for Spanish banks last week.
But the deal provided little relief for investors, since the German Federal Constitutional Court high court won't rule on the legality of a new permanent bailout fund until September. That fund is meant to replace the temporary European Financial Stability Facility and any delay could make it more difficult for struggling nations to get access to emergency funding should they need it.
Investors will also get a smattering of economic reports out of Europe, with data on consumer confidence, manufacturing and Spain's unemployment trickling out throughout the week.
With modest gains and no major disappointments out of Europe, all three major indexes ended last week with modest gains. The Dow (INDU) closed up 0.4%, the S&P 500 (SPX) rose 0.4% higher and the Nasdaq (COMP) climbed 0.6%.
While the last several months have been volatile, stocks are still enjoying solid gains for the year. The Dow is up 5%, the S&P 500 has gained 8% and the Nasdaq has rallied 12%.