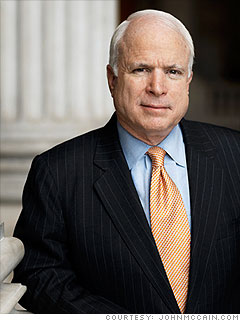 John McCain, Arizona senator and former Republican presidential candidate
At least he warned us: On the morning of Sept. 15, as Lehman Brothers declares bankruptcy, Republican presidential candidate John McCain declares "the fundamentals of this economy are strong."
By day's end, the Dow falls more than 500 points, the date becomes known as Black Monday, and McCain starts backpedaling fast.
Maybe we should have seen this coming: In late 2007, McCain admits "the issue of economics is not something I've understood as well as I should," adding, "I've got Greenspan's book."
-- By Nina Easton, Fortune Washington editor
What do you think was the year's Dumbest Moment in Business?
Join the discussion now.
NEXT: Obama's tough talk on NAFTA
Last updated December 31 2008: 10:36 AM ET
Email
|
Print
|

Digg this story
|
RSS