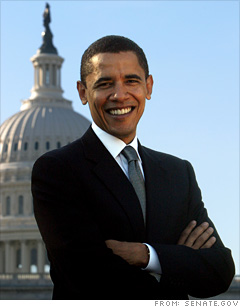 President-elect Barack Obama
In a rare off-message moment for Barack Obama's presidential campaign, a top economic adviser privately assures Canadian officials in February that his candidate didn't really mean it when he threatened to renegotiate the North American Free Trade Agreement, which U.S. blue-collar workers complain has shifted jobs to Canada and Mexico.
"Political maneuvering" was how Austan Goolsbee described Obama's protectionist rhetoric to Canadian authorities. Smart politics - until a Canadian government memo of Goolsbee's meeting leaks out and Goolsbee is banished to no-media-allowed shed for the remainder of the election.
-- By Nina Easton, Fortune Washington editor
What do you think was the year's Dumbest Moment in Business?
Join the discussion now.
NEXT: Microsoft overbids for Yahoo
Last updated December 31 2008: 10:36 AM ET
Email
|
Print
|

Digg this story
|
RSS