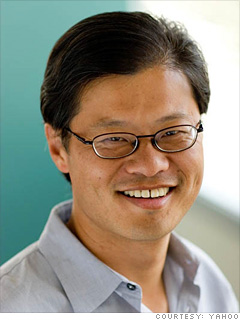 Outgoing Yahoo CEO Jerry Yang
If Microsoft's offer for Yahoo was wrong-headed, Yahoo's opposition to it was downright bone-headed. It took until July, when Microsoft finally throws up its hands and walks away, for Yahoo CEO Jerry Yang to fumble a deal that would have rewarded shareholders with a payday that was three times what Yahoo shares were fetching at year-end.
Along the way, Yahoo flirts with Google - only to see any potential deal scuttled by antitrust regulators. As 2009 approaches, Yahoo's chances of turning itself around look slim.
-- By Adam Lashinsky, Fortune editor at large
What do you think was the year's Dumbest Moment in Business?
Join the discussion now.
NEXT: SEC's Madoff miss
Last updated December 31 2008: 10:36 AM ET
Email
|
Print
|

Digg this story
|
RSS