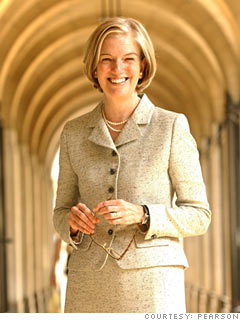 CEO
Pearson
2008 rank: 5
Country: Britain
Defying skeptics, this media titan expanded aggressively into higher education and e-learning to combat the plunge in ad revenues. It was a smart move: Pearson Education saw adjusted operating profits up 11% in 2008 to $876 million, with its U.S. education division bringing in more than 60% of sales.
She is now eying India as a big growth market and has stepped up investments in education there.
Her decade long quest to transform the FT group from a publishing company to a content, technology, and services company continued. Digital paid FT subscriptions mitigated a decline in print circulation, with an 18% increase in paying online subscribers to more than 117,000.
Digital services accounted for 67% of FT Group revenues in 2008, up from 28% in 2000. That has helped wean the company off advertising, which in 2008 accounted for 25% of FT Group revenues, down from 52% in 2000.
NEXT: 4. Anne Lauvergeon