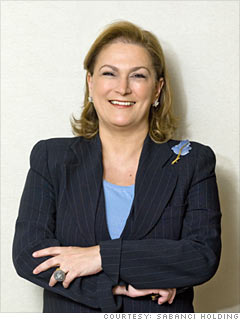 Chairman and managing director
Sabanci Holding
2008 rank: 9
Country: Turkey
Amidst a stagnating Turkish economy, visionary Sabanci, 54, continued to invest in energy and retail, spurring Sabanci Holding to a 23% increase in profits to $919 million in 2008, with sales up 8% to $15.3 billion.
After winning Turkey's first privatization tender for electricity distribution in 2008, Sabanci commissioned Enerjisa, the energy subsidiary, to begin constructing three new power plants. She's also liquidated non-core businesses like Sabanci Telekom, and this year the company is selling its stake in ToyotaSA.
Sabanci, whose family founded the company in 1967, is the first female board member of the Turkish Industrialists' and Businessmen's Association and the first woman to be a member of the European Round Table of Industrialists. She also lectures at MIT Sloan.
NEXT: 9. Maria Ramos