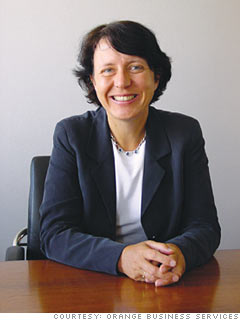 President and CEO
Orange Business Services
2008 rank: Return
Country: France
A telecom veteran who has been in the business for more than two decades, Dalibard, 51, has taken Orange Business Services, a division of France Telecom, in new directions.
This year she launched a new B-to-B initiative called the Enterprise Line of Business, which serves 6 million customers in 220 countries. She also debuted Orange's Machine-to-Machine Center, which facilitates automated communication for things like managing fleets of vehicles. And the company recently acquired Enora Technologies, which remotely monitors the health of "A-list" athletes.
Though Dalibard battled price pressures, Orange Business Services' 2008 revenues were up by 1.9% to $10.8 billion, while its gross operating margin was up by 17.4% to $ 2.17 billion.
NEXT: 6. Barbara Kux