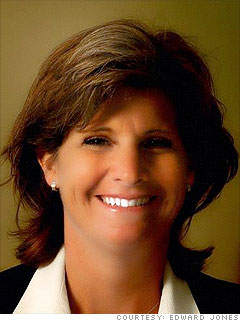 Best Companies rank: 2
Name:
Darcy Beeman
Title:
Regional leader and financial adviser
Age:
41
Years with the company:
10
I wanted to help people and I was interested in investing. [Edward Jones] fit all of the parameters. It has been everything and more than I wanted it to be.
The things that I love about it are that you are designing what you want your practice to be like, you pick your location, you hire your staff, you decide what's right for your clients. Everything is unique. The other thing that's great is that the hours are really what you want them to be.
I'm in the process of adopting a newborn and will be a single mom. When they had asked me to be regional leader I was already in the adoption planning process and I made that clear. Jones will send someone to my office to cover me while I'm gone and serve my clients. It doesn't cost me anything while I'm out on leave. They make it easy. I can come back and take a couple of appointments a day and then come home. If I want to bring my daughter into the office, that's fine. They have an adoption reimbursement plan too.
You get so much support. I'll never go somewhere else, I know that. It sounds like I drank the Kool-Aid but I feel good.
NEXT: Wegmans Food Markets