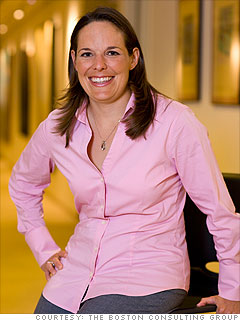 Best Companies rank: 8
Name:
Jami O'Toole
Title:
Principal
Age:
32
Years with the company:
4
I came to BCG after I got my MBA at Kellogg. I was looking for a place where I would have opportunities to experience different industries. I spent two years in Chicago as a consultant and then 18 months as a project leader and then I was promoted to principal where you have responsibility managing a project and team.
I also had the opportunity to spend seven months on an assignment in Amsterdam. My husband had gotten an assignment in Europe so I worked with BCG to get an assignment over there as well. He was in the U.K. so we got to take some nice weekend trips. It was definitely a highlight of my experience.
Now we're starting to think more and more about a family so I'm thinking about working in a more flexible way. If you get your work done you have the flexibility to work from home, and also flexibility around the hours.
NEXT: Qualcomm