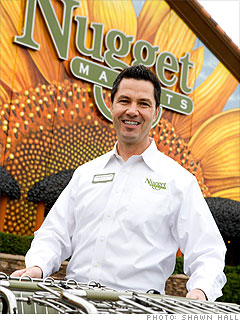 Best Companies rank: 5

Name:
John Sullivan
Title:
Store director
Age:
51
Years with the company:
1 1/2
Coming to this company was a great transition for me because of the family atmosphere that it offered. We call our customers "guests" here at Nugget. Whether it's giving a little kid a cookie and a balloon or taking a cart of groceries to someone's car, I love being an example to others. I wouldn't ask any associate to do something I wouldn't do myself, whether it's mopping up a spill or taking the trash out. That's the kind of leadership I give my team. In doing that, we have a wonderful relationship in the store. We really are a family.
We don't have a TV in the break room and it's been so interesting to see the interpersonal relationships develop. I know their kids, their husbands and wives, I know their dogs' and cats' names, what classes they are taking in school and whether they got a flat on the way to work. The nice thing about this company is all the associates are empowered to do what it takes to make their guests happy and meet their needs. It makes me excited to come to work everyday. I love pulling up and seeing everybody.
NEXT: DreamWorks Animation SKG