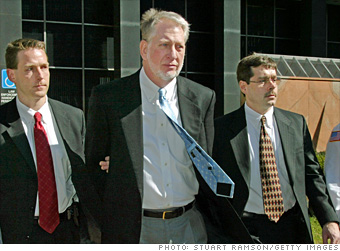 Ebbers in custody after his 2004 arraignment.
Loss: $186 billion
Peak market cap: $186 billion (April 1999)
Recent market cap: $0 (bankruptcy filing July 2002)
Enron didn't make this list because its peak market value of about $70 billion was too small. But the other big fraud of the early Aughts did. WorldCom -- the telecom rollup headed by former high school basketball coach Bernie Ebbers (right) -- was such a voracious acquirer and issuer of shares that it was a megacap at its peak. But shortly after it became apparent that Ebbers & Co. were cooking the books, WorldCom filed for Chapter 11 bankruptcy protection in 2002. Ebbers was convicted of fraud three years later.
More galleries