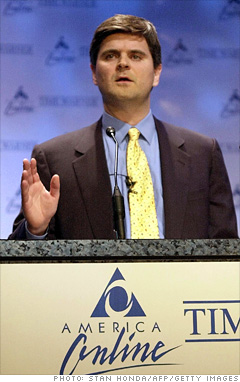 Case at the AOL Time Warner merger press conference in 2000.
Loss: $219 billion
Peak market cap: $222 billion (December 1999)
Recent market cap: $3 billion
Under founder Steve Case, AOL built a formidable user base and became synonymous with the consumer Internet. But Case (right) and Time Warner's Gerald Levin agreed in January 2000 to a merger that would soon be judged among the worst ever, with the combined company racking up $99 billion in losses in a single year. AOL has since freed itself from
Fortune
and CNNMoney.com parent Time Warner, but the once ubiquitous "you've got mail" tagline now elicits shrugs.
NEXT: Exxon Mobil