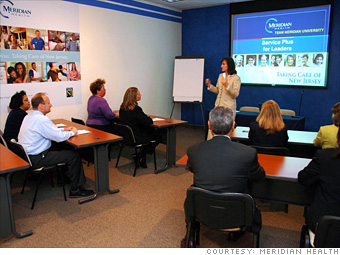 Job growth:
12%
U.S. employees:
21,303
2010 Best Companies rank: 79


This central New Jersey-based hospital system showed some healthy job growth last year, in part because of a $300 million expansion at its flagship Jersey Shore University Medical Center. But the entire Meridian system is also expanding in the months ahead as patient volume remains on the rise.
Plans are already in the works to merge with another New Jersey hospital and further grow the Meridian partner sites, which include ambulance services, physicians' practices, occupational health sites, surgery centers and diagnostic imaging. The bulk of the jobs available will be for nurses, pharmacists, therapists, assistants as well as housekeeping, maintenance and food service, according to John Sindoni, senior vice president of human resources.
More galleries