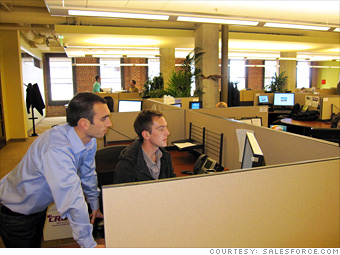 Job growth:
21%
U.S. employees:
2,361
2010 Best Companies rank: 43


Salesforce.com, which makes software to help companies manage customer relations, has thrived thanks to two hot sellers: Sales Cloud and Service Cloud. The latter, geared for call centers, is the company's core product and its fastest growing. A key selling point is that Salesforce's software integrates with Twitter and other social media channels, "taking the old service model and bringing it into the 21st century," said a company spokesman.
CEO Marc Benioff says the company is hiring more sales people worldwide to meet increased demand and is expecting growth to continue in the year ahead because of overall improvement in the information technology environment.
NEXT: Chesapeake Energy