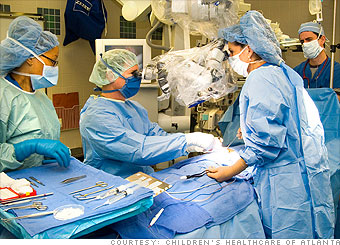 Job growth:
13%
U.S. employees:
6,536
2010 Best Companies rank: 74


The only children's hospital in Atlanta has grown tremendously, mostly because of a population explosion in the area. "There are just more and more kids to take care of," said Linda Matzigkeit, senior vice president of strategic planning and human resources.
After completing a major expansion last year, the health care provider bulked up its staff of doctors, nurses and nurse practitioners. Matzigkeit says there are plans to add about 30 more physicians and another 50 to 75 nurses this year. In a move to go paperless, technology jobs are also on the rise. "We'll probably add another 40 to 50 in technology in 2010," she said.
NEXT: Booz Allen Hamilton