Stocks drop from 4-month highs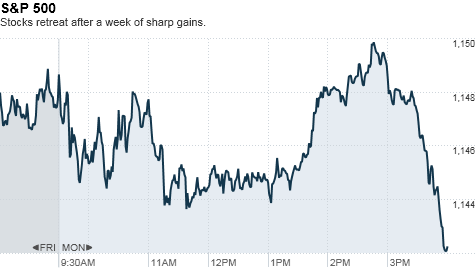 NEW YORK (CNNMoney.com) -- U.S. stocks kicked off the week with losses Monday, backing off strong gains logged in the previous week, as investors digested a small flurry of corporate dealmaking.
The Dow Jones industrial average (INDU) slipped 48 points, or 0.4%, the S&P 500 (SPX) ticked down 6.5 points, or 0.6%, and the Nasdaq (COMP) lost 11 points, or 0.5%.
Wall Street has been on a nice tear lately, as economic readings have started convincing investors that the recovery is gaining ground. U.S. stocks soared to their highest levels in four months Friday, and are still poised to end September with the biggest monthly gains in more than a year.
"The tone of economic news has gotten significantly stronger over the last four to six weeks," said Phil Orlando, chief equity strategist at Federated Investors. "This has provided investors with greater confidence that what we experienced over the summer months was simply an economic soft patch rather than the start of a double-dip recession."
With little on the economic calendar Monday, investors are soaking in the advances from the previous week and focusing on deals announced by Southwest Airlines, Wal-Mart and Unilever.
"We do have a very aggressive [merger and acquisition] cycle, and that's good for the market," he said. "But the market doesn't go up 2% every day, so right now we're just nursing a hangover."
Economy: As the market nurses its hangover, there's still plenty for investors to worry about, said Joseph Saluzzi, co-head of equity trading at Themis Trading.
With the government's seizure of three credit unions on Friday and Moody's downgrade of Anglo Irish Bank on Monday, the health of global financial institutions remains a huge concern, he said.
"The government bailing out those credit unions shows that toxic assets are still on the books, there are still things being hidden and nobody know's what's going on," he said. "And the concern about European sovereign debt is tremendous -- all those countries are connected, so if one is required to be bailed out, it's going to affect everyone else."
And while declines were generally broad-based Monday, financial stocks took a hit, with industry leaders JPMorgan Chase (JPM, Fortune 500) and Bank of America (BAC, Fortune 500) sliding more than 1%.
"People have been thinking it's all fixed but we've still got a long way to go," Saluzzi said.
Painfully high unemployment, home prices and the government's enormous deficit are other issues still weighing on the minds of investors, he said.
Companies: Southwest Airlines (LUV, Fortune 500) announced a $1.4 billion offer for AirTran Holdings (AAI), the parent company of AirTran Airways. The bid amounts to a 69% premium over AirTran's Friday closing price. The announcement sent AirTran stock surging 61%, while shares of Southwest rose 9%.

Shares of Wal-Mart (WMT, Fortune 500) slipped 1% after the company bid to acquire Johannesburg-based retailer Massmart Holdings Limited for roughly $4 billion. Massmart operates 290 stores in 13 countries in Africa. A deal has not yet been agreed to.
Consumer goods giant Unilever said it is buying Alberto Culver (ACV), manufacturer of the Tresemme and Noxzema brands, for $3.7 billion. Shares of Alberto Culver jumped 20%, while Unilever (UN) shares edged up 1%.
While deal-making activity tends to boost the market, Saluzzi said that the recent flurry of mergers and acquisitions should make investors wary.
"[Mergers and acquisitions] are destroyers of jobs, not creators of jobs," he said. "So I don't buy it that these are a good thing."
Meanwhile, Progress Energy (PGN, Fortune 500) tripped a circuit breaker, causing trading of the energy company to pause for five minutes after shares briefly plunged 90%.
After the market close, BlackBerry maker Research in Motion (RIMM) announced plans for PlayBook, a new tablet computer to compete with Apple's iPad. Shares of the company jumped more than 1% in after-hours trading.
World markets: European stocks ended lower. Britain's FTSE 100 fell 0.5%, Germany's DAX slid 0.3% and France's CAC 40 dropped 0.4%.
Asian markets finished the session with strong gains. Japan's Nikkei and the Shanghai Composite climbed 1.4%, and the Hang Seng in Hong Kong rallied 1%.
Currencies and commodities: The dollar rose against the euro and the Japanese yen, but fell versus the British pound.
The price of oil for November delivery edged up 3 cents to settle at $76.52 per barrel.
Gold futures for December delivery surged to a new record, settling at $1,298.60 an ounce. On Friday, gold hit a new intra-day record of $1,301.60.
Bonds: The yield on the 10-year Treasury note fell to 2.53% from 2.61% late Tuesday.