Stocks set to rally at the open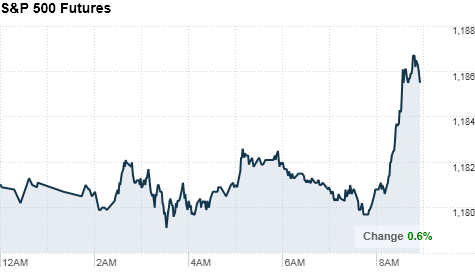 NEW YORK (CNNMoney.com) -- U.S. stocks were set to rally Thursday, as investors reacted to earnings report from Exxon Mobil and 3M and better-than-expected weekly government jobless claims data.
Dow Jones industrial average (INDU), S&P 500 (SPX) and Nasdaq (COMP) futures were all higher ahead of the opening bell. Futures measure current index values against perceived future performance.
Stocks ended mixed Wednesday, as investors lowered their expectations for an aggressive move by the Federal Reserve to stimulate the economy.
Speculation over just how big of a move the Fed is going to make has dominated Wall Street. That's a trend that's going to continue driving market activity through next week's Fed meeting, say analysts.
"It's really all about the Fed next week, and to a lesser extent elections," says Frank Longman, a market technician with Brean Murray, Carret & Co.
Stocks will likely remain on a rollercoaster leading up to and probably after the Fed announcement on Nov. 3.
"It's not baked into the market," says Longman. "There is a reasonable likelihood that the headline number can be disappointing given how high expectations have gotten."
Economy: The Department of Labor released its weekly jobless claims figures before the start of trade that were much lower than expected.
The number of Americans filing new claims for unemployment was 434,000, a decline of 21,000 from the prior week.
A consensus of economists had expected that number to have risen to 458,000, according to Briefing.com.
Companies: 3M (MMM, Fortune 500) released its quarterly earnings report before the bell, beating expectations. The conglomerate reported earnings of $1.53 per share and revenue of $6.9 billion for the third quarter. Analysts polled by Thomson Reuters had expected earnings of $1.51 a share on $6.83 billion of revenue. 3M's stock slipped in premarket trading.
Exxon Mobil (XOM, Fortune 500) also reported before the bell and beat expectations on profit but not revenue. The oil giant reported earnings of $1.44 per share and revenue of $95.3 billion for the third quarter. A consensus of experts had expected the energy giant to have earned $1.39 a share on revenue of $98.1 billion. Shares rose in premarket trading.
Late Wednesday, AIG (AIG, Fortune 500) said its chairman, Steve Miller, will take over the company if Chief Executive Bob Benmosche's cancer leaves him unable to lead.
Nintendo (NTDOY) posted a half-year earnings loss and a significant drop in sales Thursday morning. It was the company's first net loss in the fiscal first half in 7 years, according to reports. The Japanese video game maker has been hurt by a stronger yen and slowing sales of game machines.
Motorola (MOT, Fortune 500) reported better-than-expected third-quarter earnings of 16 cents per share on total sales of $5.8 billion. The company attributed the strong earnings to growth in smartphone sales, particularly in China. Analysts had expected Motorola to have earned 11 cents per share. Shares surged in premarket trading.
Microsoft (MSFT, Fortune 500) will release its quarterly earnings after the market closes. Analysts predict 55 cents per share on $15.8 billion in revenue. Microsoft CEO Steve Ballmer will deliver a keynote address around noon at the company's Professional Developers Conference in Seattle, which kicks off Thursday. Microsoft's stock edged up in premarket trading.
World markets: European stocks moved higher in morning trading. Britain's FTSE 100, the DAX in Germany and France's CAC 40 all
advanced about 0.7%.
Asian markets ended the session mixed. The Shanghai Composite slid 0.2%, while the Hang Seng in Hong Kong rose by 0.2%. Japan's Nikkei fell 0.2%.
Currencies and commodities: The dollar fell against the euro, Japanese yen and the British pound.
Oil for December delivery gained 42 cents to $82.36 a barrel.
Gold futures for December delivery gained $12.80 to $1335.40 an ounce.
Bonds: The yield on the benchmark 10-year U.S. Treasury edged down to 2.7%.