Stocks take early vacation, end flat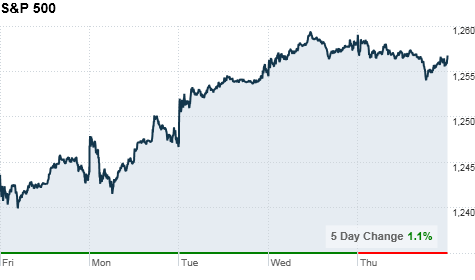 NEW YORK (CNNMoney.com) -- U.S. stocks ended a strong week on a quiet note Thursday, as mixed economic data kept investors from jumping in ahead of a long holiday weekend.
The Dow Jones industrial average (INDU) edged up 14 points, or 0.1%; the S&P 500 (SPX) fell 2 points, or 0.2%; and the Nasdaq (COMP) slipped 6 points, or 0.2%. The three major indexes were about 1% higher for the week.
On Wednesday, stocks ended at fresh two-year highs as oil prices topped $90 a barrel.
Reports Thursday showed jobless claims barely budging, new home sales rising slightly and personal income and spending ticking higher.
But Wall Street was relatively unfazed by the data, with stocks hovering near the break-even point for most of the session. Many investors have already left their desks for the holidays, and U.S. markets will be closed Friday for the holiday weekend.
"Everyone is on vacation or just taking a break from the stock market," said Tony Zabiegala, managing partner at Strategic Wealth Partners.
While gains have been modest in recent sessions, stocks are still on track to post double-digit increases for the year.
"Economic news continues to show moderate growth," said Keith Springer, president of Springer Financial Advisors. "The market is in a period -- and will be for a while -- where not terrible news is good news, so at this point there's no reason for stocks to sell off unless we get terrible news."
Economy: Before the opening bell, the Commerce Department reported that personal income rose 0.3% and personal spending rose 0.4% in November. The results were mixed, compared to expectations.
A consensus of economists surveyed by Briefing.com expected the report to show that income rose by 0.2% in November, and spending to have risen 0.5% during the month.
Meanwhile, the Department of Labor announced that initial jobless claims fell 3,000 to 420,000 in the week ended Dec. 18. Claims were expected to have edged up to 424,000.
The Commerce Department's report on November durable goods orders declined 1.3% in November, a bit more than the expected decline of 1.1%.
The new home sales index for November from the Census Bureau rose 5.5% to a seasonally adjusted annual rate of 290,000, from a 275,000 in the previous month. The index was expected to have risen to a rate of 300,000 units. But sales are still off 21.2% from a year ago, indicating the recovery is still sluggish.
The University of Michigan's final reading on consumer sentiment in December ticked up to 74.5 from 74.2 in the previous month, slightly missing the 74.8 reading economists had expected.
World markets: European stocks finished mixed. Britain's FTSE 100 closed 0.2% higher, after topping the 6,000 mark for the first time since June 2008 earlier in the session. Germany's DAX edged down 0.1%, while France's CAC 40 ticked 0.2% lower.
Thursday morning, China said it will support the eurozone through its debt crisis. Asian markets ended their session lower. The Shanghai Composite shaved 0.8%, the Hang Seng in Hong Kong lost 0.6% and Japan's Nikkei edged down by 0.2%.
Companies: Jo-Ann Stores (JAS) said Thursday it was being acquired by private-equity firm Leonard Green & Partners for $1.6 billion, or $61 per share in cash. The stock surged 32%.
Currencies and commodities: Oil for February delivery jumped $1.03, or 1%, to settle at a fresh two-year high of $91.51 a barrel, a day after crude topped $90 a barrel for the first time since 2008.
Gas prices surpassed the milestone $3 mark Thursday for the first time since Oct. 17, 2008, as the national average compiled by motorist group AAA reached $3.013 a gallon. Gas prices have risen more than 4% from a month ago, and are nearly 16% higher than the a year ago.
The dollar lost ground against the euro, Japanese yen and British pound.
Gold futures for February delivery fell $8.40 to settle at $1,380.50 an ounce.
Bonds: The price on the benchmark 10-year U.S. Treasury was slightly lower, pushing the yield up to 3.39%.
Both bonds and commodity markets had a half-day Thursday, and are closed Friday.