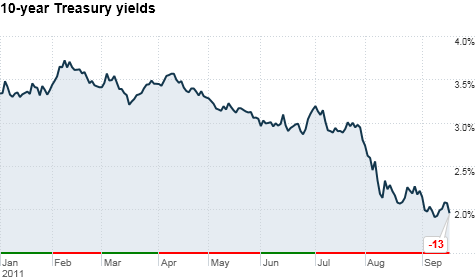 Click chart for more bonds and rates.
NEW YORK (CNNMoney) -- Investors jumped back into Treasuries Monday, as fears about a Greek default pushed tentative investors into the perceived safety of U.S. government debt.
As prices rose, the 10-year yield slid back down below 2%, to 1.95%. On Friday, the yield was closer to 2.1% when muted optimism on the European debt crisis pushed investors into riskier assets that offer higher returns, such as stocks.
"The European debt crisis has drained whatever confidence or momentum that was built in the last year, and we are now faced with a global economic fear that hasn't been felt since the eurozone was formed and if it isn't contained soon, it could continue to plague this country's recovery for years," Kevin Giddis, president of fixed income capital markets at Morgan Keegan, wrote in a note to clients.
The benchmark 10-year yield has been hovering around the 2% level for weeks now.
It first dropped below 2% on Aug. 18, when a series of disappointing economic reports and a dour outlook from Morgan Stanley sent investors flocking to safety.
Since the start of September, the yield on the 10-year note has barely budged above 2%. In fact, the 10-year yield hit a record low of 1.87% just last week.
To put it in perspective, that's lower that where the yield sat during the height of the financial crisis, when it closed at a low of 2.08% in December 2008.
Against that backdrop, investors are also gearing up for the Federal Reserve's two-day meeting that starts Tuesday. Investors are betting that the Fed will announce a plan -- dubbed Operation Twist -- that aims to sell short-term Treasuries in order to buy up longer-term bonds and ultimately push down long-term interest rates.
30-year Treasury yields dropped to 3.21% Monday, down from roughly 4% in late July.
"The two biggest problems today are the same ones that were in place two years ago and Washington has done little to help the Fed in coming up with a solution," said Giddis.
In early August, the Federal Reserve pledged to keep short-term interest rates low through the middle of 2013.