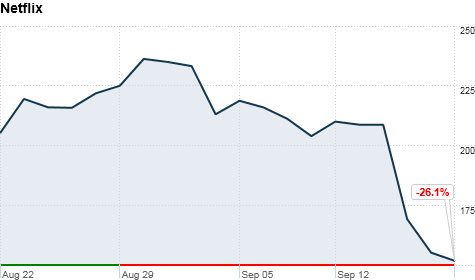 Click the chart to track Netflix's stock.
NEW YORK (CNNMoney) -- Merger Monday has recently become Splitting Monday. The latest companies to adopt the "divide and conquer" strategy are Netflix and Tyco International.
Netflix plans to split its DVDs-by-mail unit from its streaming-video business, rebranding the DVD service as Qwikster. The initial market reaction was positive as Netflix shares gained 4% in early-morning trading. But investors' enthusiasm quickly dimmed and by midday, Netflix (NFLX) stock was in the red, down more than 2% for the day.
Also on Monday, Tyco International (TYC) announced that it will split into three publicly traded companies, each focusing on a separate segment:
- North America residential and small-business security functions;
- Flow-control products and services business;
- Commercial fire and security business.
Tyco CEO Ed Breen is hoping the sum of those parts will be worth more than the whole:
"Importantly, the new standalone companies will have greater flexibility to pursue their own focused strategies for growth -- both organic and through acquisitions -- than they would under Tyco's current corporate structure. This will allow all three companies to create significant value for shareholders."
Tyco shares advanced 2.5% on the news.
These are some of the popular themes on StockTwits this Monday:
nemrut: #Qwikster seems like clever name for $NFLX DVD svc tho seems to be a 'hasty' move likely to confuse customers more than anything else.
fromedome: Important to remember $NFLX DVD shipments already peaked and are in decline. No matter what, it's NOT the future.
ivanhoff: Yes, having 20mil subscribers is a huge asset, but only if they figure out a different way to monetize it. Until then, $NFLX will be boring.
EddyElfenbein: In two months, shares of $NFLX went from $304 to $154. Now THAT'S what I call Qwikster. $$
Benzinga:$TYC Tyco CEO Breen says acquisition isn't our plan; says spinoffs could be acquired on split.
ReformedBroker: $TYC is splitting up into another set of three companies...it's like the brooms carrying buckets from Fantasia at this point.
lamonicabuzz: Tyco deja vu. $TYC to split into 3 again after already spinning off $TEL & $COV. $TYC up 7.5% pre-market. Time to buy golden shower curtain?