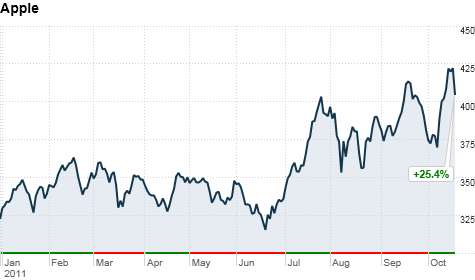 Click chart for more on Apple.
NEW YORK (CNNMoney) -- If there were a quote that best describes the nature of the earnings season so far, it would be, "The obvious rarely happens. The unexpected constantly occurs."
Apple is a prime example. Up until yesterday, the tech giant had an impeccable 10-year record of consecutive earnings surprises.
Then, Apple (AAPL, Fortune 500) announced that it sold 17 million units of iPhone 4 in its fiscal fourth quarter, falling short of the Street's expectations for 20 million units.
CEO Tim Cook attributed the weakness to the expected introduction of iPhone 4S and reaffirmed strong guidance for the rest of the year.
On the other side of the surprise spectrum is Intel (INTC, Fortune 500), which reported better than expected earnings and sales. The chipmaker managed to overcome the slowing growth of PC sales in North America and Europe by boosting profits in Asia.
Yahoo (YHOO, Fortune 500) is also garnering attention after beating the earnings-per-share consensus estimates, despite declining revenues.
These are some of the popular themes on StockTwits Wednesday:
ampressman: It's just an iPhone sales slowdown, which can't be THAT surprising as people waited for the iPhone 5, err, 4S. Mac & iPad sales solid $AAPL
sugarlover: $AAPL LOL! Writing was on the wall on this one; every Asian chip mfr had guided down. Like I said, it goes the way of the $KOSPI
EddyElfenbein: Going by the after-hours price, AAPL is selling for less than 11 times full-year earnings. http://t.co/Z0L5nJ12
nolavabo: $YHOO beats by shrinking "only" 26%. $AAPL misses by growing "only" 54%. $YHOO PE still higher than $AAPL. Insane
mohannadaama: Yahoo's second smartest move last quarter appears to be buying back 44 million shares at $13.48 each. $YHOO
wallstreetbean: $INTC http://t.co/QBjaOb5l "corporate IT spending & demand for personal computers in China helped offset weakness in US & Europe" (holding)
howardlindzon: VERY hard for tech to drop with $INTC busting to major highs ....a new 'tell' stock for me...added more $ARMH