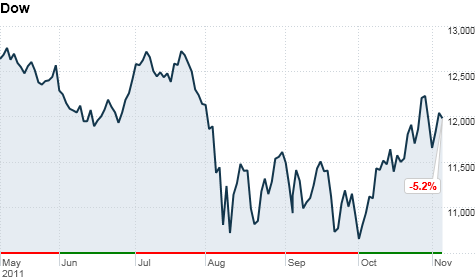 Click the chart for more stock market data.
NEW YORK (CNNMoney) -- Europe's debt crisis and the unfolding drama in Greece have been taking stocks on a wild roller coaster for weeks, and investors better buckle up because it's far from over.
Though European leaders have agreed on a deal to bail out Greece, new questions about Greece's political future emerged.
In the span of one week, Greek Prime Minister George Papandreou called for a referendum on the bailout, only to retract that call soon after. He narrowly survived a confidence vote late Friday and by Sunday, he stood ready to resign as soon as a coalition government was put in place.
The political uncertainty risks the debt ridden country's ability to secure its next bailout payment in time to avoid a default, said Kathy Lien, director of currency research at Global Forex Trading.
On top of that are growing worries over debt problems in Italy, where bond yields climbed to record highs last week, nearing levels that forced Greece, Portugal and Ireland to ask for aid.
Italy's prime minister, Silvio Berlusconi, could face yet another vote of confidence this week after he announced that the International Monetary Fund would review how well the country's belt tightening efforts were progressing.
"I'm hoping that the Europe drama quiets down, but the fact is that we're not out of the woods," said Mark Cofflet, president of Empiric Advisors. "If Europe goes down the toilet, it will suck everyone else down with it."
Eurozone finance ministers are scheduled to meet in Brussels on Monday, followed by a meeting of all the European Union finance ministers on Tuesday.
Outside of Europe, investors will continue to keep an eye on economic and earnings report, though the calendar is light.
Over the course of the week, investors will get monthly data on consumer credit, wholesale inventories, export and import prices, the trade balance and consumer sentiment. None of the reports are typically big market movers. Weekly data on jobless claims is also on tap.
"The U.S. economy seems to be doing better, but the market has been busted by the erratic drumbeat in Europe," said Cofflet. The S&P 500 is currently trading below 13 times earnings. The benchmark index "normally" trades at a multiple of 18, said Cofflet.
Earnings news is also slowing down, with only 18 S&P 500 companies on deck to report. The focus will be on media giants and retailers, including Walt Disney (DIS, Fortune 500), Viacom (VIA), Macy's (M, Fortune 500), Ralph Lauren (RL, Fortune 500), Nordstrom (JWN, Fortune 500) and Kohl's (KSS, Fortune 500), Fossil (FOSL) and Dillard's (DDS, Fortune 500).
Dow component Cisco (CSCO, Fortune 500) is also on due to open its books, as well as Priceline (PCLN), Green Mountain Coffee (GMCR) and General Motors (GM, Fortune 500).
Of the 433 of the S&P 500 companies that have reported earnings to date for the third quarter, 70% have reported above analyst expectations, according to earnings tracker Thomson Reuters.
Earnings are on pace to climb almost 17% for the quarter, while revenues are expected to rise 11%, said Thomson Reuters.