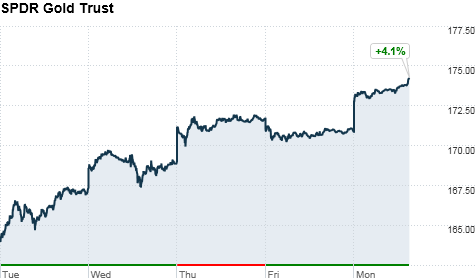 Click the chart for more on SPDR Gold Trust
NEW YORK (CNNMoney) -- Greece is last week's news. Today investors are worried about Italy, where the cost of borrowing has reached record levels.
The yield on 10-year Italian sovereign bonds reached 6.66% despite substantial direct purchases from the ECB, putting into question the ability of the Mediterranean country to borrow on the open market.
Equity indexes across the world are in the red as investors fear that the latest debt issues in Italy might freeze credit markets.
Meanwhile gold is rallying as its role as a safe haven is recognized again. GLD (GLD) is up more than 4% for the past 5 days, while SPY (SPY) lost 1% for the same period. Gold miners via GDX (GDX) advanced more than 6% for the past week.
These are some of the popular themes on StockTwits this Monday:
supertradetimer $$ Italian 10 year yields are over 6.60% today and climbing, but, just carry on. $SPY
Benzinga Italian Treasury Cancels Nov 10 Treasury Bill Auction. This is not good news. $EWI
sherowcap So it's become bash Italy week; bulls really scratching their heads on how this happened, $SPY needs to hold here or 1235 test coming $$
howardlindzon Goldman Sachs $GS was downgrading GDP and America on October 3rd (bottom) now upgrading $SPY earnings estimates ...stand aside...so creepy
Harrisonroy $GLD safe Haven...looking to advance to old highs
AGORACOM Jim Rogers: Gold will eventually end with a bubble ... but not for a few years and at much higher prices http://stks.co/104b $GLD$$ #GOLD