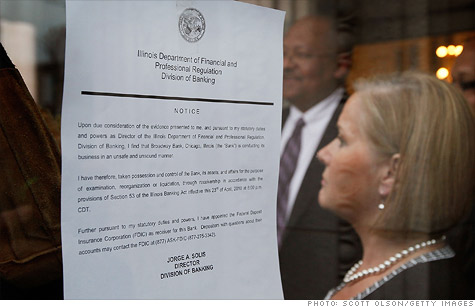 The FDIC's list of 'problem banks' number 844.
NEW YORK (CNNMoney) -- The number of banks at risk of failing fell in the fourth quarter, marking the third straight quarterly decline, according to a government report issued Tuesday.
The Federal Deposit Insurance Corp. also said banks posted the largest loan balance increase in four years. The uptick was modest, at 1.8%, with most of the increase stemming from business loans.
Banks deemed troubled by the FDIC dropped by 31 to 813, the agency said. The FDIC's problem bank list is comprised of the institutions considered most likely to fail, though few actually reach that point.
The number of failing banks continues to drop, too. Of the nation's 7,357 banks, 18 failed in the quarter. For the full year, 92 financial institutions failed, compared with 157 in 2010.
The FDIC's report also showed that the banking sector generated the largest annual profit since 2006, which was- before the financial crisis. U.S. banks posted $119.5 billion in profits in 2011, up $34 billion from 2010.
While profits have rebounded, the overall health of U.S. banks has not. Back in 2006 when banks generated $145.2 billion in profits, there were just 50 institutions sitting on the FDIC's list of problem banks.
Roughly 67% of industry's profits, or $80.1 billion, came from releasing so-called loan-loss reserves, or what banks hold to cover potentially troubled loans.
In its report, the FDIC said revenue dropped from 2010 levels for only the second time since 1938 -- a Depression year that is not auspicious for comparison.
Still, acting chairman Martin Gruenberg said the FDIC is seeing an increase in lending activity. Loan balances increased for the third consecutive quarter to $130.1 billion, and it marked the largest increase since 2007.
U.S. bank stocks have been on a tear in 2012. Shares of Bank of America (BAC, Fortune 500) and Citigroup (C, Fortune 500), which fell the furthest in 2011, are up sharply, with Bank of America rising 44.6% and Citi climbing 25.1%. Among stocks with less substantial drops, JPMorgan Chase (JPM, Fortune 500) has gained 5.6% and Wells Fargo (WFC, Fortune 500) has advanced 12.6%.